Verizon to Buy Cable Spectrum, Pressuring Rivals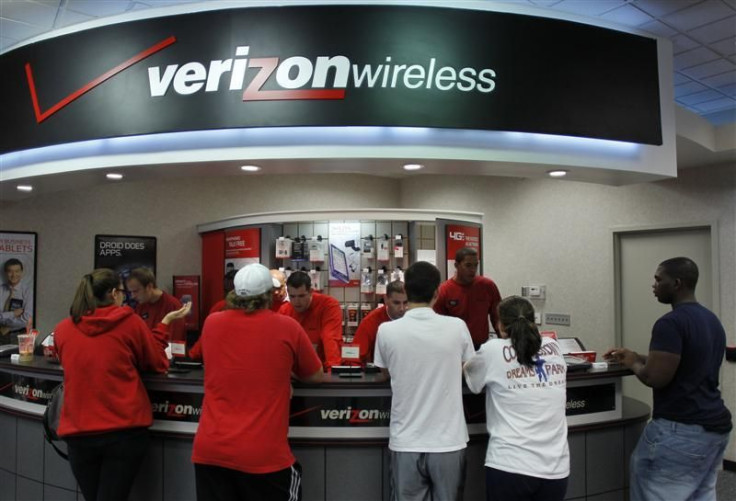 (Reuters) - Verizon Wireless will pay top U.S. cable providers $3.6 billion for wireless airwaves and let them resell its mobile service, heating up competition with the wireless company's chief rivals.
The agreement, with a consortium that includes Comcast Corp and Time Warner Cable Inc, puts new pressure on Verizon rivals Sprint Nextel and AT&T, which is tied up fighting regulatory opposition to its proposed T-Mobile USA acquisition.
Both Verizon Wireless and AT&T, the No. 1 and No. 2 U.S. mobile providers, have made no secret of the fact that they need more spectrum to support increased consumer demand for videos and other data-heavy services.
As a result Verizon's purchase could add urgency for AT&T and T-Mobile USA to close their deal, according to Bernstein analyst Craig Moffett, who called the Verizon Wireless deal a masterstroke.
If approved, the spectrum sale represents a dramatic reordering of the wireless landscape, said Moffett who had previously speculated that T-Mobile USA could team up with cable providers if the AT&T deal failed.
Another analyst saw the development of a reseller deal with Verizon Wireless as a strategic about-face by the cable operators, which compete with Verizon and AT&T in home telephone, Internet and television services.
The biggest surprise is that it aligns the cable companies with Verizon, one of their fiercest competitors, said Mizuho analyst Michael Nelson. The primary reason the cable companies formed this consortium and acquired this spectrum was to compete better with Verizon and AT&T.
The cable industry has tried unsuccessfully in the last decade to sell wireless services to customers including faltering partnerships with Sprint and more recently with Clearwire Corp. Some insiders see this deal as an admission of failure by cable industry even as it dominates growth in Internet services and wireline phones, previously controlled by traditional telephone companies.
Some investors had worried the operators would spend billions of dollars building their own wireless networks.
(This) gets us into the market very efficiently, said Neil Smit, president of Comcast Cable.
However, the resale deal could be seen as an about-face. As recently as October, Time Warner Cable Chief Executive Glenn Britt said the company hadn't found anything wonderful about the idea of reselling other operators' capacity.
Some analysts had expected the cable operators to keep the assets longer in the hope of getting a better price, particularly if the AT&T deal with T-Mobile USA failed.
Comcast said, however, that the deal represented a 64 percent premium over the $2.2 billion price the consortium paid in 2006 for the spectrum being sold to Verizon Wireless.
The cable operators already resell wireless services using the network of Clearwire Corp, their venture with No. 3 U.S. mobile service Sprint Nextel. Comcast, which has a 9 percent stake in Clearwire, said it would move 30,000 customers off the Clearwire network over the next six months.
Comcast Cable's Smit declined to comment on what the company will do with its 9 percent interest in Clearwire, but one analyst said it would likely shed the stake.
This deal means the cable industry will almost certainly have to exit the Clearwire venture, and raises troubling questions about whether Sprint will have to take on additional equity in the venture, said Moffett.
On Thursday, the money-losing Sprint said it had committed to a $347 million equity investment in Clearwire. Sprint had to shore up its balance sheet with a recent $4 billion debt offering and needs to raise up to $3 billion more.
RESALE DEAL
Analysts said they expect the deal to be approved by U.S. government regulators, after a review.
While some analysts had hoped the cable operators would stick with Clearwire, Credit Suisse analyst Jonathan Chaplin said the deal may push up the value of Clearwire's spectrum, particularly if the AT&T's deal with T-Mobile USA founders.
This limits the supply of spectrum available to all those carriers that have been more vocal about needing spectrum, which should drive up the value for other sources of spectrum, Chaplin said.
The cable companies and Verizon Wireless also said they have formed a joint venture aimed at integrating services, including potentially creating new mobile video applications.
The venture will be 50 percent owned by the cable companies and 50 percent by Verizon Wireless.
Comcast, owner of 63.6 percent of the venture that is selling the spectrum, SpectrumCo LLC, will receive about $2.3 billion from the sale. Time Warner Cable, a 31.2 percent owner of the venture, will get about $1.1 billion.
Privately held Bright House Networks, a 5.3 percent owner, will receive $189 million.
Verizon Wireless is owned by Verizon Communications Inc and Vodafone Group Plc. T-Mobile USA is owned by Germany's Deutsche Telekom.
Verizon shares were up 13 cents at $37.90 on the New York Stock Exchange, while Time Warner Cable shares were up $2.39 or 3.9 percent at $63.30, also on the NYSE. Comcast shares rose 89 cents or almost 4 percent to $23.46 on the Nasdaq.
© Copyright Thomson Reuters 2023. All rights reserved.