Verizon Strike 2011: Long Island Union Member Assaulted by Manager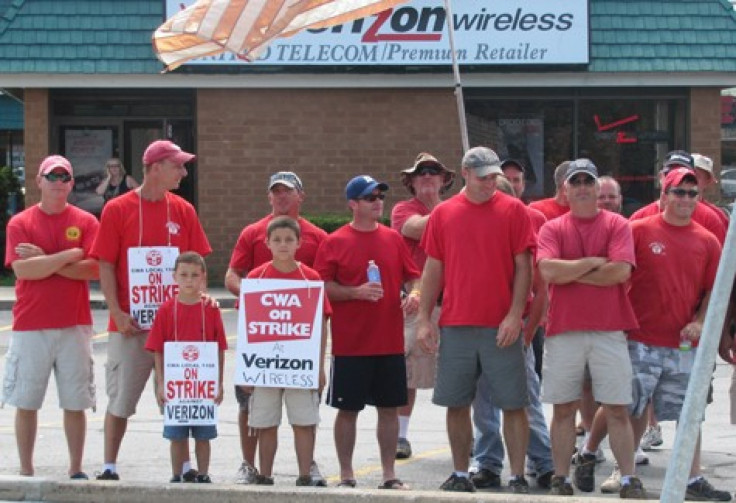 A striking Verizon worker in Long Island was hospitalized after a violent confrontation with a non-union manager on Thursday.
According to the Long Island Press, the striker Dennis Dunn was taken to a hospital after a physical altercation with George Googe, a Verizon manager from Connecticut.
Riverhead police subsequently arrested Googe on charges of second-degree harassment.
Dennis Dunn's brother, Donald Dunn, executive Vice President of the Communications Workers of America (CWA) union Local 1108, told reporters that the fight occurred in front of the Suffolk County National Bank on West 2nd Street in Riverhead, near a rally by Verizon strikers.
The violence erupted when Googe crossed the picket line.
According to Riverheadlocal.com, witnesses claimed Googe grabbed Dennis Dunn by the neck and smashed his head against the wall of a building. He then punched Dunn several times before others men broke up the fight. Googe then tried to flee, but was picked up by police an hour later.
"I know he was very upset, he's a little shaken," said Donald Dunn about his brother.
In response to the disturbance, a Verizon spokesman stated: "We are looking into the allegations and will respond accordingly. Picket lines often present tense and difficult situations, with taunts not uncommon. We do not tolerate or condone violent behavior by any employee."
About 45,000 Verizon landline workers walked off the job two weeks ago to protest a significant batch of the concessions the company is demanding from the unions, particularly with respect to health care coverage.
© Copyright IBTimes 2023. All rights reserved.