Verizon Strike: Fears Rising That Lack of Progress in Negotiations Could Lead to New Work Stoppage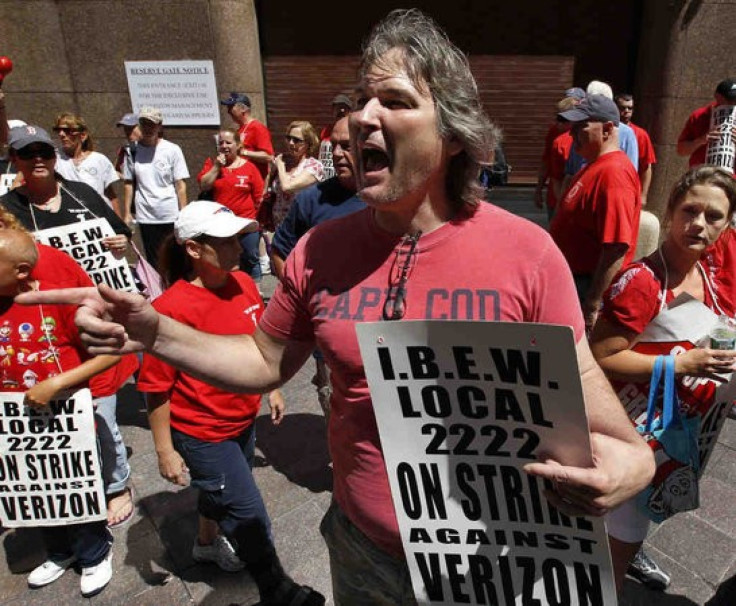 Apparently, some workers at Verizon Communications (NYSE: VZ) are puzzled as to why the strike by 45,000 union members came to a sudden halt over the weekend after only two weeks.
The company [Verizon] was feeling the impact, so there's a lot of mixed feelings, one strike organizer told the New York Daily News.
The News said that union bosses never sought a lengthy walkout and decided the suspend the work stoppage after company executives finally seemed to exhibit some eagerness to pursue bargaining in good faith.
Reportedly, the company's new chief executive himself Lowell McAdam attended a nine-hour marathon meeting on Friday in Washington hotel with various leaders of the two principal unions representing the strikers -- the Communications Workers of America (CWA) and the International Brotherhood of Electrical Workers (IBEW).
The Daily News speculated that it was the first time anyone could remember that a Verizon CEO attended labor talks during a strike – suggesting the company is sensitive to how the work-stoppage was starting to hurt the firm.
Both the unions and the company realized it was time for employees to return to their jobs and service our customers, said Verizon spokesman John Bonomo.
Meanwhile, the unions and the company remain far apart of various issues and it looks like workers might not be prepared to sacrifice too many benefits.
According to reports, unions have stated that Verizon is pressuring them to make a number of big concessions, including a freeze on pensions and a relaxation on job security rules, among others.
One Verizon employee in New England told the Boston Globe: "We still don't have a contract, so as a show of solidarity we're wearing our red union shirts [which shows a snake and reads: 'Will Strike If Provoked."
Another former striker told the Globe that if current negotiations fail to lead to a new contract, another strike could erupt.
"It could all hit the fan in a couple of weeks,'' he said.
Myles Calvey, a business manager with IBEW, in New England, expressed his concerns about the negotiations, considering that Verizon has apparently stuck to its demands.
"That kind of makes everybody scratch their head,'' he told the Globe. "This is absolutely the strangest bargaining session that I've been involved in, in my life.''
CWA Vice President Chris Shelton declared on Tuesday: We're not folding our tents and going home until we get a contract. We'll be ready to strike again, if necessary."
The Globe also noted that the atmosphere inside Verizon's Boston headquarters between managers and union laborers was "tense."
"It's an uncomfortable atmosphere and it's very tense in there,'' said a Verizon customer service employee in Boston. "Nobody is really comfortable because we don't know what's going to happen.''
There is also some lingering bitterness between the former strikers and non-union employees who had to fill in for them during the work-stoppage.
FOLLOW MORE IBT NEWS ON THE BELOW CHANNELS