VIDEO 2013 Preakness Stakes: Oxbow Dominates, Stunts Orb's Triple Crown Chances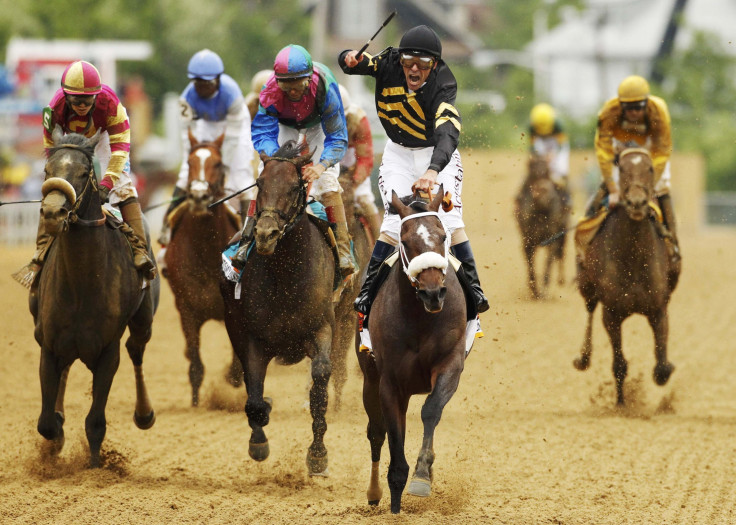 Fifteen-to-one odds didn't stop Oxbow, who became the first horse in more than 30 years to win the Preakness Stakes wire-to-wire Saturday afternoon at Pimlico.
Not since Aloma's Ruler in 1982 has a horse bolted out from the gate and never relinquish a lead.
Hall of Fame jockey Gary Stevens won his third Preakness as Oxbow broke out to a two-length lead after the first turn, while heavy favorite Orb stayed with the pack until after the second bend. Stevens has now won each of the Triple Crown legs three times, including the longer track at Belmont.
Moving up as high as third, Orb then fell behind and never made a move in the final 30 seconds of the race.
Itsmyluckyday, Mylute and Orb would finish behind Oxbow, who ran a 1:57.54 race.
Seventy-seven-year-old Hall of Fame trainer D. Wayne Lukas won his sixth Preakness behind Oxbow. Lukas has sent more horses to the Preakness than any other trainer, and has the second most Preakness wins in history.
It was the 17th Preakness ride for Stevens, who had returned from retirement in January. His last win at Pimlico was in 2001 with Point Given, and his first came in 1997 with Silver Charm.
Orb saw his odds move to 3-5 before the race began, and was seen as a near lock to be the ninth horse to win the Kentucky Derby and Preakness Stakes in the same year for a chance at the Triple Crown.
Many thought Orb would be crowded and pushed along the gate, but despite an excellent start, the three-year-old colt failed to breakaway at any point in the race.
© Copyright IBTimes 2023. All rights reserved.