VIDEO Usain Bolt, Jamaica Wins 4x100 Meter Relay At World Championships In Moscow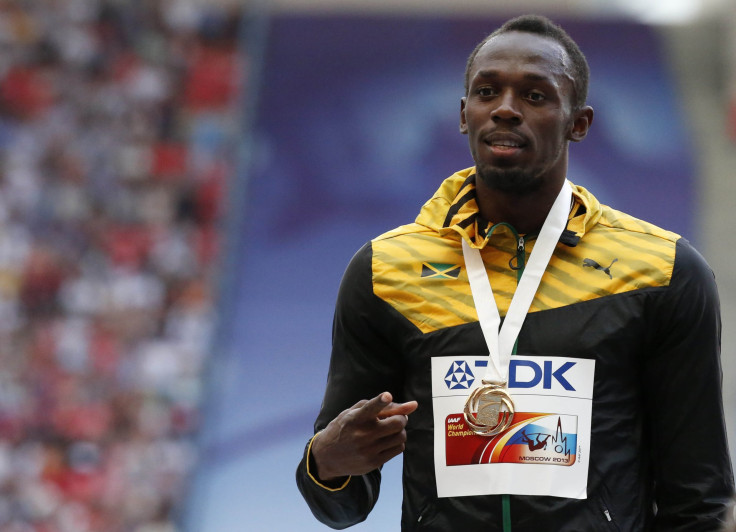 Usain Bolt launched himself into history by anchoring Jamaica en route to the 4x100-meter gold medal on Sunday, completing a sweep of his events at the world championships in Moscow.
Bolt surpassed Americans Carl Lewis and Michael Johnson as the most honored world champion by capturing his eighth career gold medal. Earlier this week Bolt had won golds in the 100 and 200 meter events, bringing his career medal count to 10 (eight gold and two silver). Lewis had eight golds, one silver, and one bronze, while Johnson won eight golds total in his career.
Jamaica clocked a time of 37.36 seconds, with Nesta Carter, Kemar Bailey-Cole, and Nickel Ashmeade joining Bolt on the winning team.
Justin Gatlin anchored the silver medal U.S. team that came in .30 seconds behind the Jamaicans. A botched final hand-off by the Americans gave Bolt all the time he needed to clear the rest of the field in the final 100 meters. Canada came in third for the bronze.
Known for his confidence as much as his speed, Bolt commented on Gatlin's trouble with the handoff.
"I wasn't really worried about Justin," Bolt said to the Associated Press. "I knew if he got the baton in front of me, I could catch him."
It was a bit of a disappointing tournament for the Americans. While the U.S. won 25 medals throughout the nine-day event, it was the first time they failed to at least tie the gold medal count.
"For me, my aim is to continue hard (toward) the greatness thing," Bolt said. "Continue dominating."
© Copyright IBTimes 2023. All rights reserved.