Vietnam Mobs Set Fire To Foreign Factories In Anti-China Riots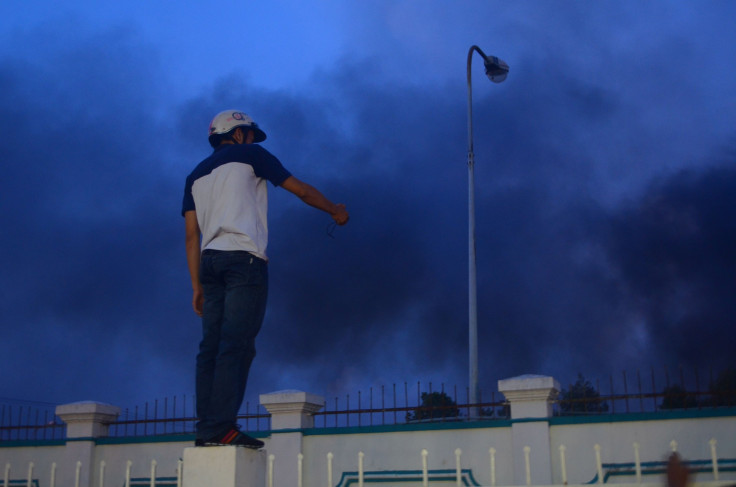 (Reuters) -- Thousands of Vietnamese set fire to foreign factories and rampaged in industrial zones in the south of the country in an angry reaction to Chinese oil drilling in a part of the South China Sea claimed by Vietnam, officials said Wednesday.
The brunt of Tuesday's violence, one of the worst breakdowns in Sino-Vietnamese relations since the neighbors fought a brief border war in 1979, appears to have been borne by Taiwanese concerns that were mistaken for Chinese-owned companies in the factory zones in Binh Duong and Dong Nai provinces.
A police official in Binh Duong, speaking by telephone, said about 200 people had been arrested.
"We are working on other areas in the province ... We haven't seen any injuries," the official said.
Photographs posted on social media sites and blogs, purportedly of the aftermath of the violence, showed blackened shipping containers, smashed windows and several burnt-out vehicles that had been overturned.
Some Taiwanese firms had spray-painted messages on the road and across their gates saying "We Support Vietnam" in an effort to distinguish themselves from Chinese enterprises.
The row over the South China Sea and anti-China violence in tightly controlled Vietnam have raised fears of an escalation in tensions between the neighbors, which are both officially Communist states but also ancient enemies.
"I fear a dark chapter in Sino-Vietnamese relations is now being written," said Ian Storey, a South China Sea expert at Singapore's Institute of Southeast Asian Studies.
"And because China wants to keep that oil rig in place into August, these protests could just be the first pages."
Tran Van Nam, vice chairman of the Binh Duong People's Committee, said around 6,000 workers initially held peaceful protests on Tuesday, but order broke down when numbers swelled to about 20,000. Gates were smashed and rioters set 15 factories on fire, he said.
"This caused billions of dong (hundreds of thousands of dollars) in damages, and thousands of workers will have lost their jobs," Nam said by telephone.
"We urge everyone to stay calm, exercise restraint and have faith in the leadership of the Party and State."
"EVERYONE IS TERRIFIED"
F.Y. Hong, president of Taiwan's Formosa Industries Corp, one of the companies attacked, said about 300 rioters looted televisions, computers and personal belongings of workers.
"Due to the limited number of police, they couldn't stop the looters. The situation was like in a country where there were no authorities to protect its people," Hong said.
Malaysian-listed furniture manufacturer Latitude Tree Holdings Bhd said its property was ransacked, forcing factory workers to down tools. It did not know when operations at the plant could resume.
"Everyone is terrified," said Serena Liu, chairwoman of the Taiwan Chamber of Commerce in Vietnam. "Some people tried to drive out of Binh Duong, but looters had put up roadblocks."
A Singapore Foreign Ministry spokesman said the premises of several foreign companies were broken into and set on fire in two Vietnam-Singapore joint venture industrial parks in Binh Duong.
The United States said it was monitoring events in Vietnam closely, and urged restraint from all parties involved. Taiwan's Foreign Ministry was in talks with Vietnamese authorities to ensure the safety of its citizens.
Storey said the Vietnamese government would now be under increasing pressure to respond, which could risk a military clash at sea with China that Vietnam could not win.
Dozens of ships from both countries are around the oil rig, and the two sides have accused each other of intentional collisions, increasing the risk of open confrontation.
Vietnam's former colonial master France urged "utmost restraint" from all sides to defuse territorial tensions.
In Beijing, Foreign Ministry spokeswoman Hua Chunying told reporters that China was seriously concerned about the violence and had summoned Vietnam's ambassador to protest.
China has "demanded the Vietnamese side make efforts to adopt effective measures to resolutely support eliminating illegal criminal acts and protect the safety of Chinese citizens and institutions," Hua told reporters.
Hong Kong-listed sports shoe maker Yue Yuen, which supplies footwear to Adidas, Nike and other international brands, said it had suspended production in Vietnam because of the protests, but there was no damage to its facilities and its workers were safe.
A spokesman for global exporter Li & Fung, which supplies retailers like Kohl's Corp and Wal-Mart Stores Inc. with clothing, toys and other products, said some of its suppliers in Vietnam had halted production on Wednesday as a precautionary measure. He gave no further details.
PHILIPPINES POINTS FINGER
Anti-China sentiment was also on the rise in Manila, as the Philippine government accused Beijing of reclaiming land on a reef in disputed islands in another part of sea, apparently to build an airstrip.
The spike in tensions over the oil- and gas-rich South China Sea comes two weeks after U.S. President Barack Obama visited the region and expressed support for longtime allies Japan and the Philippines, both of which are locked in territorial disputes with China.
Vietnam is also stepping up ties with the United States, 40 years after the Vietnam War.
China claims almost the entire South China Sea, an area rich in energy deposits and an important passageway traversed each year by $5 trillion worth of ship-borne goods.
Brunei, Malaysia, the Philippines, Taiwan and Vietnam also have claims on the area.
Philippine foreign affairs department spokesman Charles Jose said China had been moving earth and materials to Johnson South Reef, known by the Chinese as Chigua and which the Philippines calls Mabini Reef, in recent weeks.
He said China was reclaiming land in violation of the Declaration on the Conduct of Parties in the South China Sea, an informal code of conduct for the region.
"I think they're to construct an airstrip there," Jose said.
However, Richard Bitzinger, a military analyst at the S. Rajaratnam School of International Studies in Singapore, said the airstrip was unlikely to be a strategic game-changer in the South China Sea because of the difficulty in building a workable runway on the atoll.
"It would be a nice tool to have in the box of options to project power, but it is probably going to be far too small to have a huge impact," Bitzinger said.
"At this point I would be very surprised to see this develop into any airbase of any significant size ... China's holdings in the Spratlys are just too small.
"It is probably as much a political move as anything else, the laying down of one more marker to solidify their position and continue their campaign of creeping assertiveness."
© Copyright Thomson Reuters 2023. All rights reserved.