Vin Scully's Best Calls: Buckner's Error, Gibson's Home Run Among Iconic Moments
Legendary broadcaster Vin Scully died Tuesday night at 94 years old. The voice of the Dodgers had an iconic career, calling games for the MLB franchise for 67 years, in addition to countless national broadcasts.
Scully was in the booth for some of the biggest moments in sports' history. Some of the Hall of Fame broadcaster's calls are nearly as memorable as the plays themselves.
Here's a look at five of Scully's best calls in his broadcasting career.
Bill Buckner's Error
In Game 6 of the 1986 World Series, the New York Mets completed one of the most improbable comebacks ever to extend the Boston Red Sox's championship drought. Whenever baseball fans think of Boston's first baseman allowing the game-winning run to score, Scully's "It gets through Buckner!" often comes to mind.
Kirk Gibson's Home Run
An injured Gibson gingerly walked to the plate before his pinch-hit, two-run homer gave the Los Angeles Dodgers a 5-4 victory in Game 1 of the 1988 World Series. Scully perfectly summed up the play and the Dodgers' season by saying, "In a year that has been so improbable, the impossible has happened!" after Gibson rounded the bases.
Hank Aaron Breaks Babe Ruth's Record
Aaron hit his 715th career home run on April 8, 1974, breaking the all-time record that had been held by Babe Ruth for 39 years. Scully's call perfectly captured one of the greatest moments in MLB history.
Joe Carter Wins the World Series
Only two World Series have ended on a walkoff home run, and thankfully, Scully was on the call for the most recent one. Carter's home run off Mitch Williams in Game 6 of the 1993 Fall Classic gave the Toronto Blue Jays their second straight championship.
The Catch
Scully was such a transcendent broadcaster that he had legendary moments outside of baseball. He was on the call for Dwight Clark's touchdown reception in the NFC Championship Game that sent the San Francisco 49ers to the 1982 Super Bowl.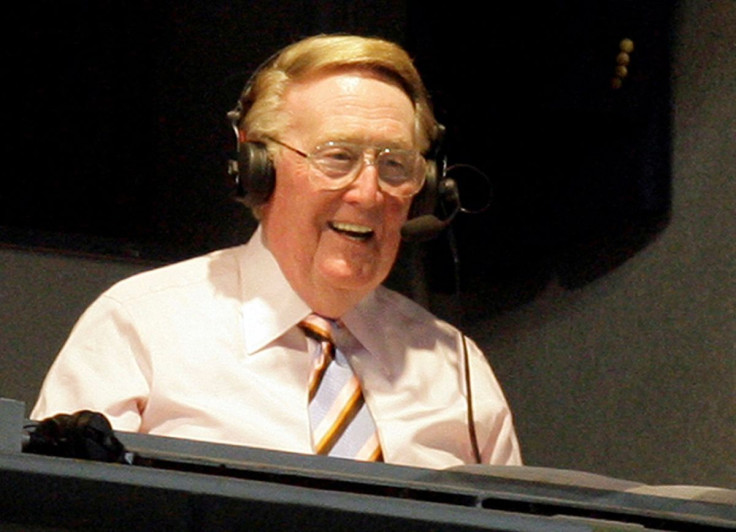 © Copyright IBTimes 2023. All rights reserved.