Vin Scully's Net Worth And Salary Before His Death
KEY POINTS
Vin Scully died Tuesday at the age of 94 at his home in Hidden Hills, California
Scully was hired as an announcer for the Brooklyn Dodgers' broadcast team in 1950 when he was just 22
He had a 67-year tenure calling games for the Dodgers until officially retiring at the age of 88
Vincent Edward "Vin" Scully, the voice of the Los Angeles Dodgers for more than six decades, died Tuesday, the team announced. He was 94.
Here's a look at the life and net worth of the radio and TV broadcaster as fans mourn his death.
Scully, who was known for his distinctive voice and trademark introduction, was born in New York City and was raised in Manhattan. His father was a silk salesman, while his mother was a homemaker. After his father died when he was 4, Scully was raised by his mother, who later remarried a merchant sailor.
Scully had his first job at the Pennsylvania Hotel in Manhattan, where he delivered beer and mail, cleaned silver and pushed garment racks in the building's basement.
Following two years of service in the Navy, he attended Fordham University, where he started his career as a student broadcaster and journalist. There, he co-founded the school's FM radio station and became assistant sports editor for The Fordham Ram. Scully also played center field on the Rams baseball team.
In 1950, when he was just 22, Scully was hired to join Red Barber and Connie Desmond as an announcer on the Brooklyn Dodgers' broadcast team. Scully moved with the Dodgers in 1958 to their new location in Los Angeles. He had a 67-year tenure calling games for the Dodgers until officially retiring at the age of 88.
In the years between 1990 and 2008, Scully reportedly earned between $1 million and $1.5 million per year, according to Celebrity Net Worth. From 2008 onward, he was reportedly earning $3 million in salary annually.
At various points in his career, he also had separate contracts with networks such as NBC and Fox, the outlet reported.
Scully broadcast his final home game for the Dodgers on Sept. 25, 2016. He officially retired after calling the Dodgers' season finale in San Francisco on Oct. 2 that year.
Throughout his career, Scully also made appearances in numerous films and television series, including "For Love of the Game," "Bachelor in Paradise" and "Wake Me When It's Over."
He received various awards and recognitions, including the Presidential Medal of Freedom from former President Barack Obama in 2016, the Ford C. Frick Award from the National Baseball Hall of Fame and a star on the Hollywood Walk of Fame.
At the time of his death, the legendary broadcaster had an estimated net worth of $25 million, according to Celebrity Net Worth.
Scully, who passed away at his home in Hidden Hills, California, leaves behind five children Kevin, Todd, Erin, Kelly and Catherine, 21 grandchildren and six great-grandchildren, Reuters reported.
Sandra Scully, Vin's wife of 47 years, died in January 2021 at 76.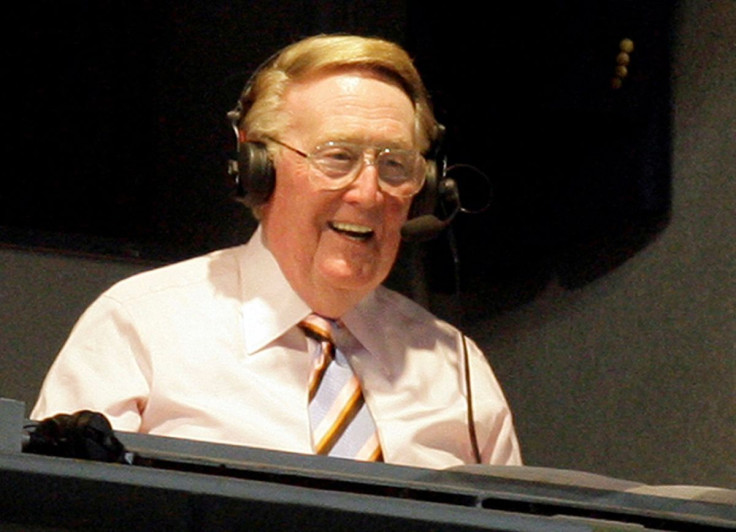 © Copyright IBTimes 2023. All rights reserved.