Viral Time Magazine Cover Comparing Putin To Hitler Is Actually Fake
KEY POINTS
A fabricated Time magazine cover comparing Russian President Vladimir Putin to German dictator Adolf Hitler went viral
The creator of the image said he made it on the day Russia launched its attack on Ukraine
The graphic designer said Time's official release was "uninspired and lacked conviction"
A purported Time magazine cover comparing Russian President Vladimir Putin to Nazi Germany dictator Adolf Hitler that has been circulating on social media is not a real cover, the publication confirmed.
On Monday, a graphic designer named Patrick Mulder confirmed in a statement on social media that he had created the viral image and that it was "one out of a sequence of three," according to Reuters.
The graphic designer posted on Twitter that he made the fake Time magazine cover on the day Russia invaded Ukraine as he "wanted to create something that added to the conversation" around the assault and "captured the public mood."
Mulder also said that he decided to frame the image he created as a Time cover because the publication's official release was "uninspired and lacked conviction."
A spokesperson for Time confirmed that Mulder's image was "not an authentic Time cover."
The image that went viral on social media showed Hitler's mustache overlayed onto Putin's face with the Time masthead viewable at the top of the image. The edited cover had small text that read, "Feb. 28 / March 7, 2022."
The text on the center of the purported magazine cover read, "The Return Of History," while its subheading stated, "How Putin Shattered Europe's Dreams."
The image was not intended to be a Time cover, but the finished work was "so powerful" that it deserved to be framed "in an equally powerful way," according to Mulder.
"I feel as though the official cover by Time was uninspired and lacked conviction given the unprecedented events unfolding before our eyes," the graphic designer said in his statement.
The image of Hitler was specifically used in the image as he was the "embodiment of evil," according to Mulder. The artist explained that the comparison between Putin and the German dictator was "at the forefront" of his mind as the former was "using Hitler's playbook in his diatribe [by] claiming Ukraine is part of Russia."
"Hitler said the same thing in 'Mein Kampf' when he insisted Austria should be part of the German motherlands. Putin's justification for invading Ukraine is eerily similar to Hitler's pretext for seizing Czechoslovakia and Poland [prior to the start of World War 2]," Mulder said before ending his statement with the Ukrainian phrase, "Slava Ukraini," which translates to "Glory to Ukraine."
Despite Mulder confirming the fabricated nature of his image, many still praised the unofficial cover.
"The cover epitomizes the moment. Incredibly [powerful] image. Also accurate," one Twitter user wrote.
Others, meanwhile, called Mulder a "bad graphic designer" and a "moron" for the image.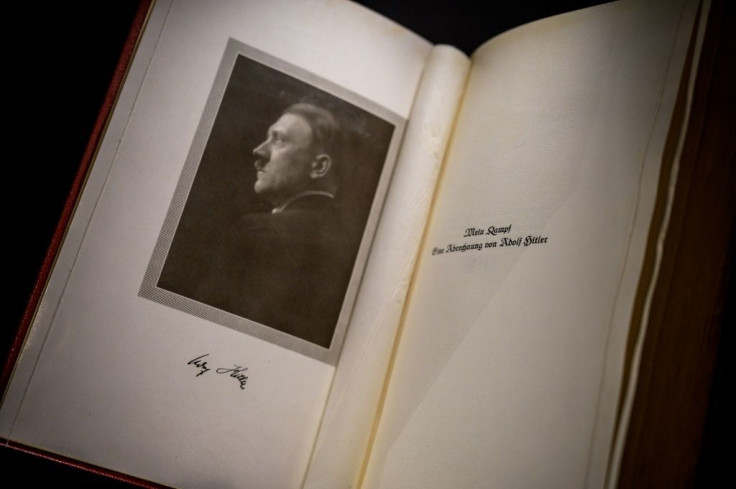 © Copyright IBTimes 2023. All rights reserved.