Volkswagen Diesel Scandal: Owners Are Fuming Over Emissions Cheating; German Automaker Slammed With Lawsuits For False Advertising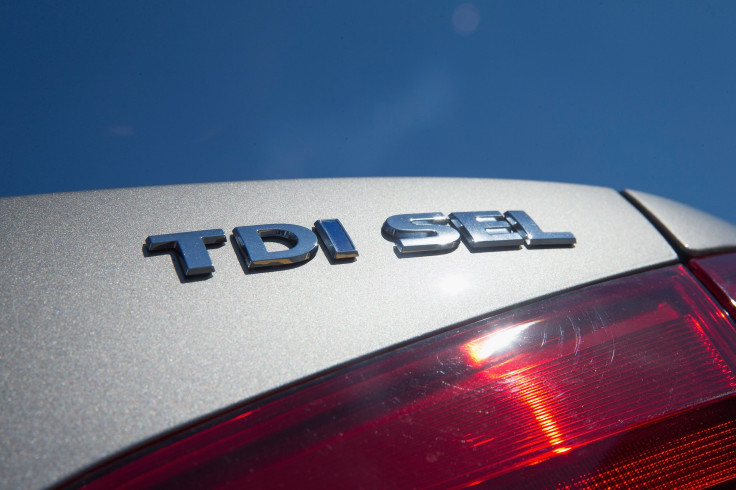 When Christopher and Lauren Monroe went to a dealership to buy a new 2010 Volkswagen Jetta TDI sedan, the salesman had a gimmick to lure customers toward one of Volkswagen's newest diesel engines. He would place a white handkerchief over the tailpipe and let the exhaust pass through for a few seconds.
"Then he would show us the handkerchief and say, 'look how clean it is.' " said Monroe, a lecturer at Cornell University in Ithaca, New York. "It was this dramatic visual effect designed to persuade people who have negative views about diesel cars. Volkswagen has been persuading people with fancy marketing on TV and in publications -- and here they had this little handkerchief trick."
Monroe said despite the "cheesy" sales ploy, he was drawn to the Jetta's interior space and comfort as well as its hybrid-like fuel economy.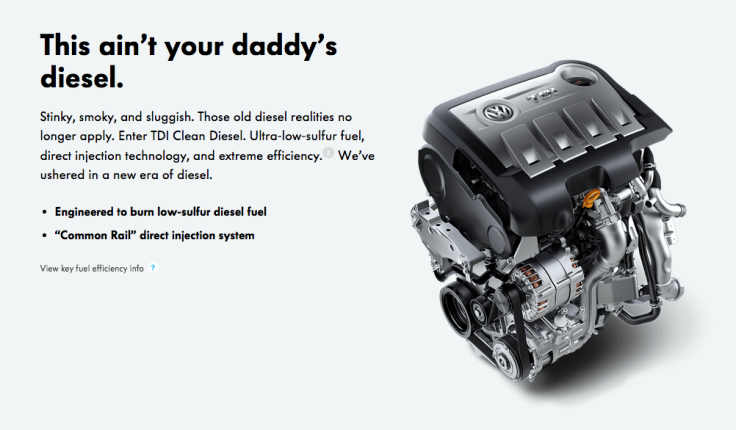 The Monroes aren't the only Volkswagen customers who are fuming. Now that the German automaker has been caught altering its "clean diesel" cars to cheat emissions standards, many owners of the vehicles don't want their cars fixed or altered. The software patch Volkswagen will need to install will adversely affect fuel economy and performance. Many owners, therefore, will likely want Volkswagen to buy their cars back.
"In an ideal world, I want them to show up at my door with a check for $27,000. I'd tell them, 'There's the car, take it and good luck to you,' " Monroe said.
Volkswagen has spent more than $164 million this year running 36 national television ads, including $77 million marketing its clean diesel cars, according to iSpot.tv, which tracks TV ad spending. Under enticing slogans like "no compromise," the company spun a narrative that its cars offered both great performance and high fuel economy without the smoky emissions of traditional diesel vehicles.
"This is not the car I bought and I want Volkswagen to take it back," says Petar Ramadanovic, an English professor at the University of New Hampshire, who bought a 2015 Volkswagen Golf TDI (Turbocharged Direct Injection) instead of the Prius he had been considering. He paid an extra $5,000 for the TDI version of the Golf so that he could get better fuel economy. "The salesperson was telling my wife and I, 'This isn't your old diesel. This is new, cleaner technology.' And it turns out not to be the case."
Ramadanovic and Christopher Monroe are plaintiffs in a class-action lawsuit demanding compensation for the premium price customers paid for the diesel cars as well as other costs, including a free vehicle replacement program for people who want to trade in their cars.
In addition to facing an $18 billion fine from the U.S. Environmental Protection Agency, the costs of fixing 482,000 cars in the U.S. and dealing with lawsuits and settlements for years to come, the Federal Trade Commission (FTC) could also slap Volkswagen hard for making the false advertising claims that helped lure buyers away from hybrid cars like the Toyota Prius and Honda Civic Hybrid.
On Thursday, attorneys general from at least 27 states launched an investigation into the way the company represented its diesel engines to consumers. A spokeswoman told Reuters that state consumer and environmental protection agencies will also review Volkswagen's conduct.

Rena Steinzor, a law professor at the University of Maryland's Francis King Carey School of Law, says Volkswagen is not just in trouble for deceiving state and federal environmental regulators and for selling cars that violate emission standards, they're also on the line for how they marketed the cars.
"What happened here was a very conscious decision to fool with the software to make the car more responsive and to make certain claims about the performance of these cars," Steinzor said. "The first place the Department of Justice goes in cases like this is to ask, 'Did you lie to the government?' And the second place is, 'Did you make false claims in the marketing?' "
On Tuesday, U.S. Sen. Bill Nelson, D-Fla., a member of the Senate Commerce, Science and Transportation Committee, called on the FTC to get involved. "I am outraged that VW would cheat its customers by deceiving them into buying a car that wasn't what was advertised," Nelson wrote in a letter sent to the agency.
The FTC declined to comment on Thursday, except to say it had received Sen. Nelson's letter. Though the U.S. Justice Department is also looking into Volkswagen's marketing practices, the FTC could get involved by filing a complaint against the automaker, demanding compensation to customers and a national advertising campaign to set the record straight with the public.
The affected Volkswagen Group cars in the U.S.:

-- Volkswagen Passat (2014-2015 model years)
-- Volkswagen Golf (2009-2015 model years)
-- Volkswagen Jetta (2009-2015 model years)
-- Volkswagen Beetle (2009-2015 model years)
-- Audi A3 (2009-2015 model years)
© Copyright IBTimes 2023. All rights reserved.