Vonderrit Myers Had Gunshot Residue On Hands And Clothing, According To Police Report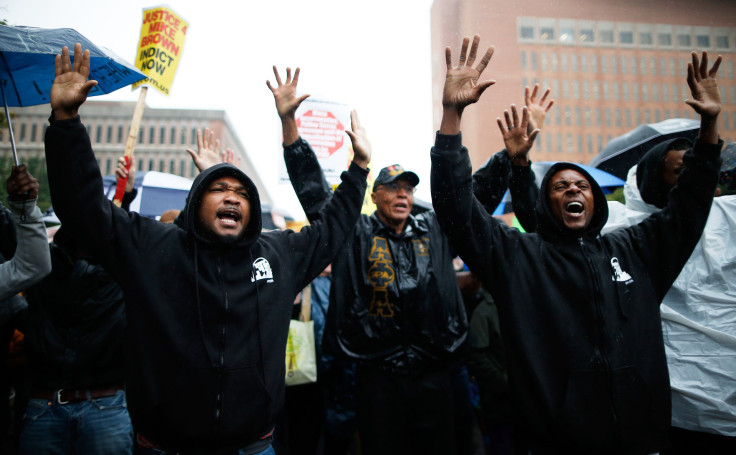 Vonderrit Myers, an 18-year-old black man shot by an off-duty St. Louis police officer last week, had gunshot residue on his hands and clothing, a Missouri State Highway Patrol report released Tuesday said. The report said gunshot residue was found on the chest and sleeves of Myers' shirt and "on the inner entrances to the front and back pockets" of his jeans.
"The presence of gunshot residue on a person's hands could mean the individual discharged a firearm, was near a firearm when it was discharged or touched an object with gunshot residue on it. Individuals shot at close range can have gunshot residue deposited onto their hands," the statement read.
"The presence of gunshot residue on the jeans and shirt could be from being in the environment of a discharged weapon or coming in contact with an object with gunshot residue on it," the statement said. "Whereas gunshot residue is unlikely to persist on an active person's hands for more than eight hours, it is not known how long gunshot residue may persist on clothing. Therefore, gunshot residue may have been deposited on the jeans from a previous unrelated firearm discharge."
Myers was shot by a 32-year-old off-duty police officer patrolling in the Shaw neighborhood for a private security firm last Wednesday. The officer pursued Myers and two others after they ran from him. St. Louis Police Chief Sam Dotson said Myers shot at the officer during a confrontation and the officer fired back 17 times. Myers' gun reportedly jammed.
Myers' cousin told the St. Louis Post-Dispatch he was unarmed and had a sandwich in his hand, which the officer mistook for a firearm. St. Louis Police said a gun was recovered at the scene.
Myers' shooting came two months after Michael Brown, an unarmed black teenager, was shot by a Ferguson Police officer in August. Myers' shooting renewed unrest that gripped the St. Louis region following Brown's shooting.
© Copyright IBTimes 2023. All rights reserved.