Voters Don't Like Mitt Romney: GOP Candidate's Personal Favorability In The Red, Pew Reports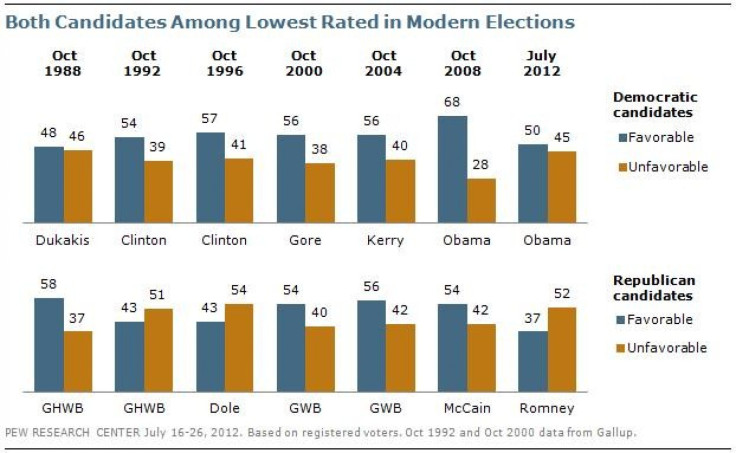 Try as he might, Mitt Romney just cannot connect with the average American voter. That point was highlighted this week by a survey that found there are more people with unfavorable views of the Republican U.S. presidential candidate than there are people with favorable views of him.
In fact, Romney has one of the lowest personal favorability ratings of any presidential contender on record.
Fifty-two percent of likely voters said they have a negative personal view of Romney, with only 37 percent of them said they have a positive personal view of him, according to a new Pew Research Center poll. The survey was conducted during the candidate's recent trip overseas -- which, by most accounts, was unsuccessful -- and it represented the sixth consecutive survey over the past nine months in which Romney's favorability figure has been in negative territory.
Meanwhile, Democratic President Barack Obama appears to have a considerably more favorable personal image among American voters. However, opinions of the president were almost equally divided, with 50 percent of respondents saying they have a positive image of him and 45 percent of them saying the converse.
In fact, both Romney's and Obama's current ratings are lower than the pre-election ratings of most other recent presidential candidates. In the past 24 years, only Democrat Michael Dukakis (1988), Republican George H.W. Bush (1992), and Republican Bob Dole (1996) were not rated positively by a majority of voters.
Pew pointed out there are very specific voting blocs that support either candidate. For instance, Romney has been consistently favored by whites, while Obama has been consistently favored by women, minorities, and voters under 30. Meanwhile, elderly voters are almost evenly divided between Romney, 49 percent, and Obama, 45 percent.
The candidates also enjoy almost equal support from one of the coming election's most coveted demographics: political independents. Forty-five percent of self-described independents said they preferred Romney, while 43 percent of them said they preferred Obama.
© Copyright IBTimes 2023. All rights reserved.