Voters Go to Polls in Wisconsin's Two Final Recalls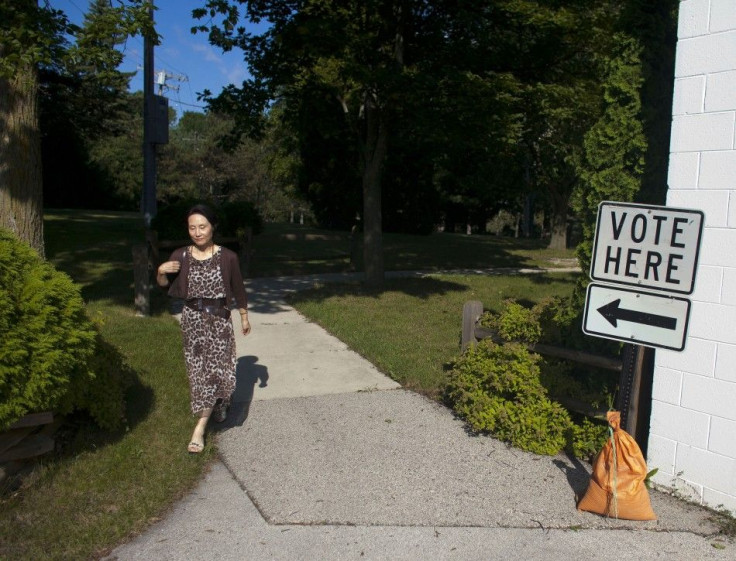 Voters in two Wisconsin State Senate districts headed to the polls on Tuesday in the last of nine recall elections triggered by the fight earlier this year over Republican-backed curbs on union rights of public workers.
In Tuesday's two final special elections, Jim Holperin and Robert Wirch -- Democrats who opposed the anti-union measure and even fled the state for weeks in an unsuccessful effort to prevent its passage -- are defending their seats.
Holperin seems to be in the tighter race. His rival is Kim Simac, founder of the Northwoods Patriots, a Tea Party group. Though Simac is a political novice, the district has leaned Republican in the three years since Holperin was elected.
"I think it's going to be a very, very close race," said Holperin, during a phone interview Tuesday. The Democrat, who will be campaigning in the towns of Antigo and Merrill this afternoon, said he is never confident in any race in the district, which is primarily a Republican stronghold.
One voter in the Holperin-Simac race Tuesday, Ruth Beversdorf, 82, said she is opposed to the recalls because they are a "waste of money." But she felt inclined to vote due to the state's and country's fiscal situation.
"We are so far in the hole, we got to dig ourselves out," she said after she voted at the Community Center in Wittenberg.
"I am just all for a balanced budget. It's the first time in all my years that we have a balanced budget in Wisconsin," she added.
Poll workers, as they enjoyed sloppy Joes and pastries, said they expect a high turnout.
No matter who wins in the two races, Republican Governor Scott Walker and his Republican allies will retain control of the legislature, where the battle over public workers' union powers was waged earlier this year with mass protests, legislative maneuvering and court challenges.
With seven of the nine recalls over, Republicans have managed to keep control of the state senate -- 17 to 16 if they score no wins on Tuesday -- because Democrats failed to unseat three senators in the key round of six Republican recalls last week.
Walker fought for the union curbs, which severely restrict the bargaining rights of public workers and also make them pay more for healthcare and pensions, saying they were needed to help Wisconsin close a $3.6 billion budget deficit.
Democrats cried foul, saying public workers had already agreed to steep benefit cuts. They called the effort union-busting, designed to hobble organized labor -- a major source of Democratic Party financing -- ahead of the 2012 elections.
The fight thrust Wisconsin into the national spotlight, igniting massive pro-union protests and political fights that led to the recall efforts against six Republicans who backed the union curbs and three Democrats who opposed them.
One of the races involving an incumbent Democrat was held earlier in the summer.
The nine recall efforts were historic. Until this summer, there had been only 20 state-level recall elections in the 235-year history of the United States.
The money poured into the recall campaigns has been something for the record books.
Mike Buelow, research director for the Wisconsin Democracy Campaign, estimates that candidates and outside groups spent as much as $37 million on the recalls.
That amount is "really astronomical for Wisconsin," he said -- more than double the amount spent on state legislative races last year when 116 seats -- not nine -- were up for grabs.
With the recalls acting as somewhat of a rehearsal for 2012, experts say the spending could be a harbinger of record outlays next year.
© Copyright Thomson Reuters 2023. All rights reserved.