Wall Street Plummets Below Key Support Level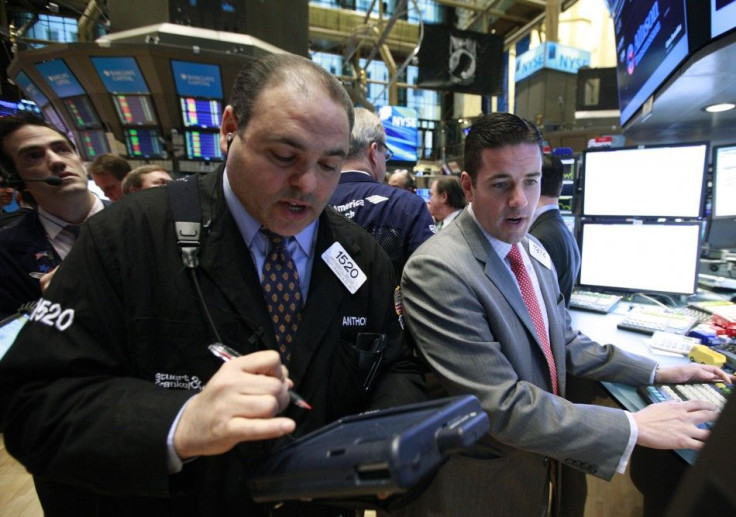 U.S. stocks plunged Tuesday in their fifth straight daily decline on worries about Spain's soaring borrowing costs and the euro zone's financial health.
In mid-afternoon trading, the S&P 500 dropped 1.61 percent to 1,359.88. It broke down through its key support level of 1,372, something that technical analysts warn could mean the index will not stop sliding until it reaches its next support level of 1,265.
The Dow Jones Industrial Average dropped 1.69 percent and the Nasdaq Composite tumbled 1.97 percent. If the Nasdaq continues falling, Tuesday could mark its first close below 3,000 since March 12, according to MarketWatch.
Markets have been skittish over concerns about the financial health of the euro zone, specifically that Spain or one of the other debt-choked nations on the monetary union's southern periphery will need the same kind of bailout that Greece received earlier this year.
The Italian FTSE MIB index fell 4.98 percent, while the Spanish IBEX 35 dropped 2.96 percent. Yields for Spanish and Italian bonds rose 0.03 percent and 0.02 percent, respectively, with the yields on Spanish bonds hovering just beneath the critical 6 percent level.
The surge in Spanish yields puts the European debt crisis back on U.S. investors' radar screens, front and center, Mohamed El-Erian, CEO of Pacific Investment Management Co., told Bloomberg News in an e-mail. Friday's disappointing (jobs) report has eroded investor confidence about America's self-sustaining ability to overcome headwinds from Europe.
Besides euro zone worries, investors are concerned that first-quarter earnings season will be weak. Alcoa Inc., which begins the first-quarter reporting period after the market closes on Tuesday, was down 2.55 percent for the day on expectations that it will post losses.
Bank of America Corp. also stumbled on the Dow, losing 4.26 percent, while Caterpillar Inc. lost traction as well and declined 3.39 percent. Hewlett-Packard Co. managed to pull out a slight gain of 1.02 percent.
There's some anxiety around the commentary that's going to come out of this season and the sustainability of margins across the board, Sam Turner, director of large-cap portfolio management at Riverfront Investment Group told Market Watch.
A lack of data in the lead-up to earnings announcements has left many investors questioning the market.
Since macroeconomic data is waning, taking some money off the table is hardly a dumb idea, Dan Greenhaus, chief global strategist at BTIG said, according to MarketWatch.
There is disagreement among analysts about whether the drop in the market represents a buying opportunity or a broader correction in the market, Reuters said.
© Copyright IBTimes 2023. All rights reserved.
FOLLOW MORE IBT NEWS ON THE BELOW CHANNELS