Want To Climb Mt. Everest? Plan On Passing More Than 200 Dead Bodies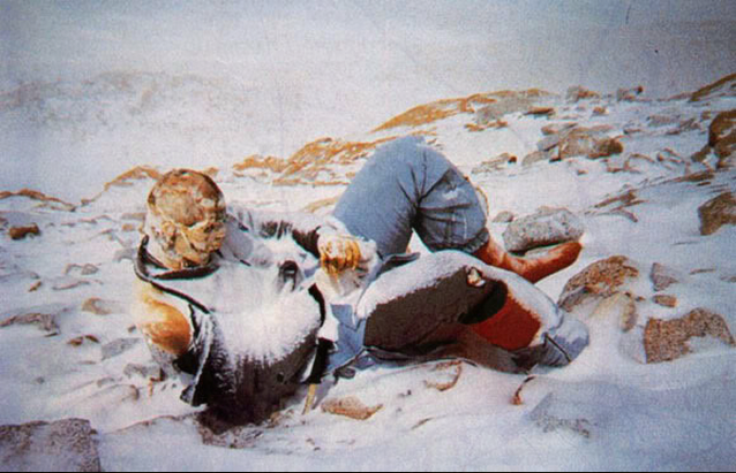 As if the intense weather conditions and lack of oxygen didn't make climbing Mount Everest hard enough, there's now confirmation that more than 200 dead bodies line the trails to the top.
The world's tallest mountain has long been too irresistible for explorers to ignore. Even a group of musicians -- including G. Love and members of the Gin Blossoms -- set out to climb Everest to raise cancer awareness. But a recent report from Smithsonian Magazine reminded the public how dangerous venturing to the summit really is.
Skill and experience are not the only factors a climber needs to survive an Everest expedition. Luck seems to be key, with one misstep opening the possibility of falling into an abyss or entering the path of a falling boulder. The lack of oxygen also poses a risk -- but none of these things offers the warnings that walking by a dead body does.
The bodies on Mount Everest have been preserved for so long and are thus so well-known that many have nicknames. "Green Boots," suspected to be Tsewang Paljor, an Indian climber who perished in 1996, serves as a kind of trail-marker for hikers approaching the Everest's summit. Green Boots was separated from the rest of his group and took shelter beneath an overhang, where he still sits.
David Sharp apparently followed in Green Boots' footsteps, and he tried taking refuge in the same cave ten years later. Smithsonian reported that dozens of climbers passed by Sharp while he was still alive and apparently thought he was the already dead Green Boots. By the time some tried to save him, it was too late.
Both bodies are still in their final resting place.
Altered Dimensions offers some gruesome photographic evidence of their misfortune and chronicles similar stories about Everest explorers who became stranded in snow or fell hundreds of feet.
The most famous person to start the journey to the top of Mt. Everest and not live to tell the tale might be the British mountaineer George Mallory. The World War I hero led the first three expeditions up Everest. He vanished on the last one in 1924, and his body was not found until 1999, with a broken leg and a rope tied around his waist.
© Copyright IBTimes 2023. All rights reserved.