War In Ukraine: Latest Developments
Here are the latest developments in the war in Ukraine:
Ukraine said it has struck Russian military positions in the southern Kherson region where Kyiv's army is fighting to reclaim territory captured by Moscow early in the invasion.
"Our aircraft carried out a series of strikes on enemy bases... equipment and personnel and field depots around five different settlements in the Kherson region," the defence ministry said.
Ukraine's President Volodymyr Zelensky said Ukrainian forces are "holding on" in the battered eastern city of Severodonetsk.
But Ukrainian forces have made strides in the Zaporizhzhia and Kharkiv regions outside Donbas, and are "liberating our land", he added.
The UN warns that unfair trials of prisoners amounts to war crimes after pro-Russian separatists sentenced two captured British fighters and a Moroccan to death for joining Ukraine's army.
British Prime Minister Boris Johnson said he was "appalled" by the verdicts, while Foreign Secretary Liz Truss called them an "egregious breach of the Geneva convention".
Ukraine's Interior Minister Denys Monastyrsky said there is no imminent risk of Russia marching on Kyiv, but the capital would not let its guard down.
"There is no danger of an attack on Kyiv today," Monastyrsky said. "There is no concentration of troops near the Belarusian border, but we understand any scenarios are possible tomorrow," he told AFP.
"Therefore, serious training is under way" on a line of defence around the city.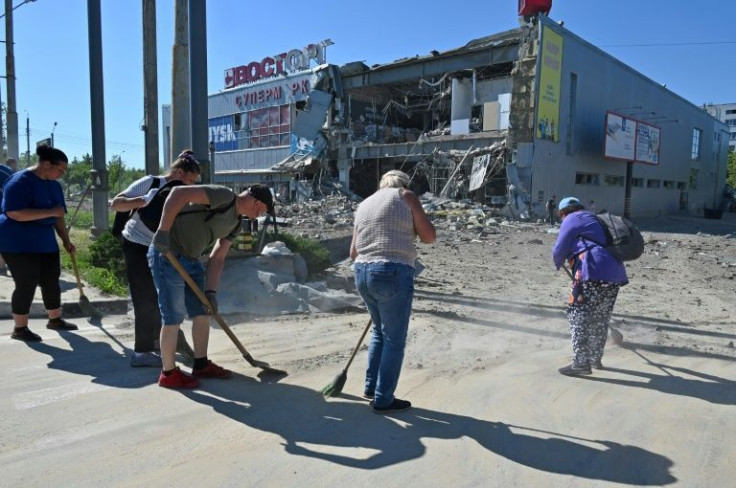 Senegalese President and African Union head Macky Sall urged Ukraine to demine waters around its Odessa port to ease much needed grain exports.
Cereal prices in Africa have surged because of the slump in grain exports since the war began, sparking fears of famine and social unrest on the continent.
Ukraine's president said his country should not be left in a "grey zone" with its EU membership bid, saying 70 percent of Europeans see the country as part of "the European family".
Russia's central bank cut interest rates for the second time in a fortnight, saying its economy is recovering faster than expected from sanctions.
But it warned that the "external environment for the Russian economy remains challenging."
The war has caused Ukraine's economy to contract by 15.1 percent in the first three months of the year, the state statistics agency said.
The invasion laid waste to large swathes of the economy, with the International Monetary Fund predicting Ukraine's gross domestic product will shrink by 35 percent in 2022.
Russian President Vladimir Putin said producing goods locally to circumvent Western sanctions was not a cure-all and that Russia is looking for new trading partners.
© Copyright AFP 2023. All rights reserved.