Warriors Schedule: Golden State Takes Winning Streak To Lakers On National Television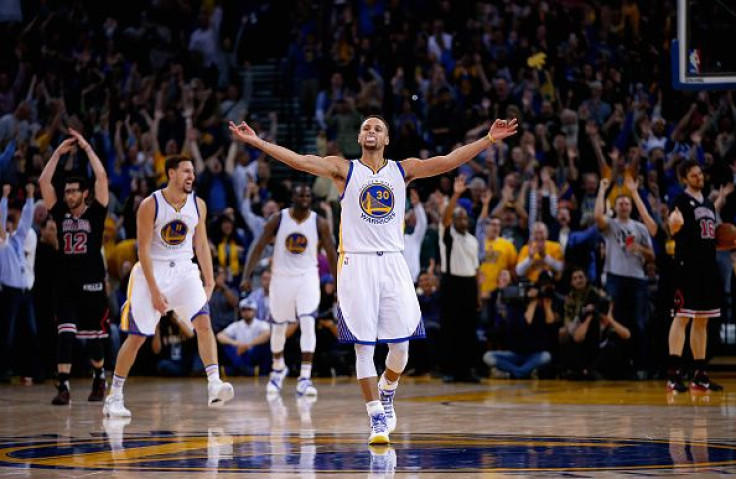 The only thing standing in the Golden State Warriors' way of a 16-0 start and a piece of NBA history is the 2-11 Los Angeles Lakers on Tuesday night at Oracle Arena.
The Warriors tied a league record on Sunday with a 118-105 victory over Denver, becoming the third team to win 15 consecutive games to open the season. Klay Thompson led the way with 21 points and seven assists while Stephen Curry added 19 and seven assists in just 28 minutes. As a team, Golden State shot 15-for-29 from three-point range and dished out 35 assists en route to their 10th double-digit win 15 games.
"It's kind of a quiet confidence that we don't feel like we're going to lose anytime soon," Curry said after the game. "The way we're playing...we can get even better."
Curry is following up his MVP season with an encore even better than the original to this point. He's on another planet offensively, leading the league in points per game (32.7) on 51.4 percent shooting, including 43.8 percent from three-point range. The aggressiveness in Curry's offensive game has taken a clear jump, proven by not only his increase in scoring but in shot attempts. After averaging 16.8 shots a season ago, Curry takes the second-most field goals per game (21.5), behind only Russell Westbrook.
One win away from the most consecutive wins to start a season, interim coach Luke Walton downplayed the record's significance to the overall outcome of the season. "Whether or not we get it, it really doesn't affect our ultimate goal of trying to win a championship…It would be something nice to get along the way," Walton admitted.
Attempting to avoid being on the wrong side of history are the Lakers, who are last in the West and have lost four straight games. The most recent defeat came at the hands of the Portland Trail Blazers on Sunday night at Staples Center, 107-93. It was the ninth time in 13 games the Lakers gave up at least 100 points and the seventh time in 11 defeats that Los Angeles lost by double-digits. Los Angeles is allowing the fourth-most points per game (105.4) while scoring just 98.2 points per night and ranking No. 29 in field goal percentage (41.5).
Kobe Bryant has played 10 of 13 games and leads the team in scoring (16.3 ppg) but is shooting just 31.1 percent from the field and 20 percent from long distance, including 0-5 from three-point range on Sunday.
"I'm just trying to be calm about the situation and stick to the present. Stick to teaching," Bryant told reporters about his poor shooting. "Tomorrow in practice, we'll go over things and get ready for the next game."
When asked about facing the Warriors and attempting to end their winning streak, Bryant struck an optimistic tone.
"I've seen stranger things happen," Bryant said. "We might go up there and we might play like gangbusters up there. You never know."
Lakers coach Byron Scott weighed in, praising the defending NBA champions. "I love watching them play because they do all the things we talk about. They share the ball. They play for one another. They play as a team."
Golden State was 3-1 against Los Angeles in 2014-2015 but won both games at Oracle Arena. The game tips off at 10:40 p.m. ET, and will air on TNT.
© Copyright IBTimes 2023. All rights reserved.