Warriors vs. Rockets: Steve Kerr Hopeful Of Double Injury Return For Playoffs
The Golden State Warriors dropped their first game of the Western Conference semifinals against Houston Rockets when they went down 116-111 in overtime in Game 3 but had some good news the day after that would have lifted the team's spirits. Head coach Steve Kerr revealed Sunday that they could have Damian Jones and DeMarcus Cousins back in the squad before the end of the season.
The Warriors lead the Rockets 2-1 in the seven-game series, while it is unclear if Jones or Cousins will return for the ongoing series, they could return if Kerr's team continue winning to make a run to the NBA Finals. He first spoke about Jones, who has been a long-term absentee since undergoing surgery in December, but then shifted his attention to Cousins, who suffered a torn quad in April.
"It's a possibility he could be back. Same with DeMarcus," Kerr said Sunday, as quoted on CBS Sports. "He's coming along pretty well. We'll just wait and see."
Cousins suffered a torn quadriceps on his left leg during Game 2 of the first round of playoffs against Los Angeles Clippers and initial diagnosis suggested that it will be a long-term absence. He did not need surgery to repair the damage but did face a long road to recovery via rehabilitation.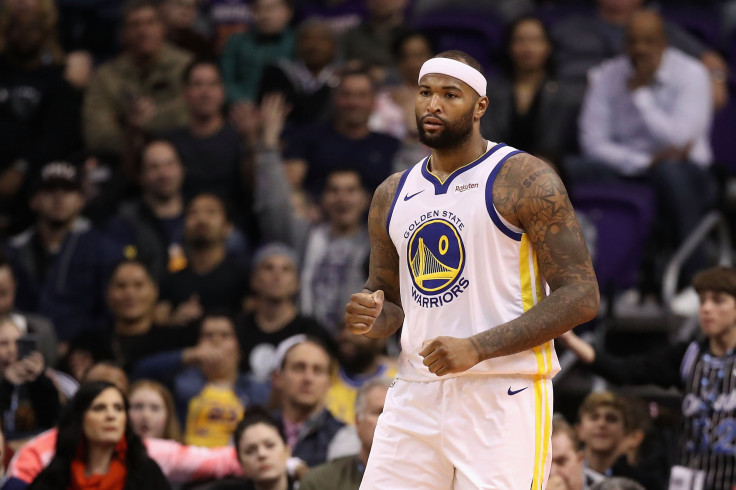 Kerr said Cousins has made "normal progression" since suffering the injury. He received clearance from the Warriors medical staff to complete spot-up shooting drills last week, and then joined the team on the road to Houston for Game 3 and Game 4 of the conference semifinals.
The big center was seen on the bench with the rest of the squad and completed spot-up shooting drills after the team's morning shootaround. The spot-up clearance does not indicate a quick return and it will require the Warriors to make another run to the finals to probably give Cousins to make an appearance as the report claims that he will require at least 3-4 weeks more of rehabilitation before getting any clearance.
Meanwhile, Kerr admitted that he is not too concerned about Stephen Curry's ongoing slump against the Rockets. The Warriors point guard is averaging just 18.3 points and shooting just 36.5 percent from the field and 25.1 percent from three.
The head coach is expecting more from his point guard in Game 4 and they will need him to step up if they are to beat James Harden and company in Houston. Curry made just 7-of-23 shots from the field and made just two of his nine three-point attempts on Saturday night.
"He's just really, really competitive and he gets locked in and he gets a little bit angry," Kerr said, as quoted on Bleacher Report. "And he comes out with a lot of focus and a lot of fight so that's what we're expecting [Monday]."
© Copyright IBTimes 2023. All rights reserved.