Washington Nationals vs. Houston Astros Game 7: Prediction, Odds, 2019 World Series MVP Pick
It all comes down to Wednesday night for the 2019 World Series. The Houston Astros host the Washington Nationals in Game 7 with the winner being crowned MLB champions.
Zack Greinke gets the ball for the Astros at home. Nationals ace Max Scherzer is Washington's starting pitcher on the road.
For the first time in history, the road team has been victorious in each of the first six World Series games. That hasn't stopped Houston from being favored in Game 7.
The Astros are given -135 betting odds to win their second title in three years, according to OddsShark. The Nationals are anywhere from +115 to +130 underdogs, depending on the sportsbook. The over/under is 7.5.
Neither team has a decided starting pitching edge.
Greinke has been a disappointment this postseason, posting a 5.30 ERA. He's gone just 18.2 innings in four starts. Greinke was pulled with two outs in the fifth inning of Game 3 after surrendering one run and 10 baserunners. The veteran has thrown more than five innings once in the 2019 playoffs, doing so in a loss to the New York Yankees.
It's hard to know what Washington will get out of Scherzer. The three-time Cy Young winner was scratched from Sunday's Game 5 because neck spasms wouldn't even allow him to lift his arm. Scherzer is at least healthy enough to start Wednesday night. He pitched five innings in Game 1, giving up two runs, five hits and three walks.
The pitchers that relieve the two starters might ultimately determine the Game 7 winner. Scherzer was supposed to face off with Cole in Game 5. Cole looked every bit like the dominant starter that's earned himself a massive contract in free agency, pitching seven innings of one-run ball with three hits, two walks and nine strikeouts.
Nearly 72 hours after leaving the mound in Game 5, Cole could play a major role in Wednesday's do-or-die contest. He might go longer than Greinke if the Game 7 starter gets into trouble early.
Patrick Corbin and Anibal Sanchez will be available out of the bullpen for Washington. Nationals manager Dave Martinez will likely go to them over his shaky relievers.
Juan Soto, Anthony Rendon and Adam Eaton have all come up big for Washington this series. Jose Altuve, Yordan Alvarez and Michael Brantley have good numbers for Houston. Alex Bregman has three home runs.
No one hitter has stood out among the rest. If one of the starting pitchers that begins the contest or comes out of the bullpen is the biggest difference-maker in Game 7, they might win the World Series MVP award.
Game 7 Prediction: Houston over Washington, 5-3
World Series MVP: Gerrit Cole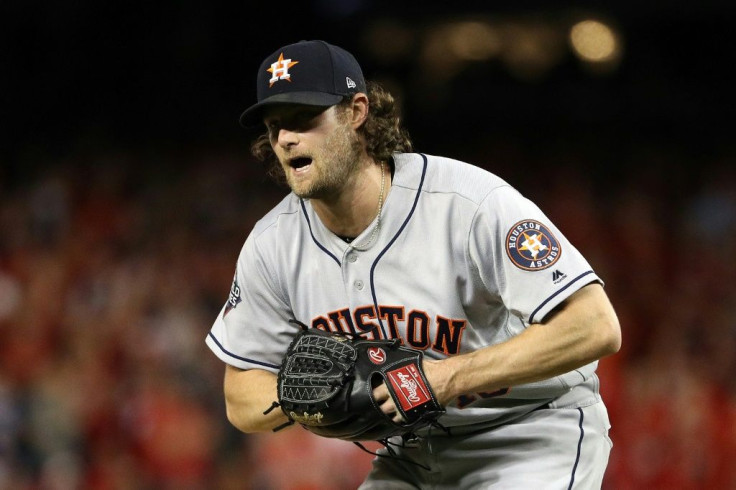 © Copyright IBTimes 2023. All rights reserved.