Washington Redskins Signing Josh Johnson As Mark Sanchez Backup, Reports Say
According to various reports, the Washington Redskins will be signing journeyman quarterback Josh Johnson as the new backup to Mark Sanchez. Sanchez himself was only signed last month as a backup, following the season-ending injury to Alex Smith, with Colt McCoy promoted to be the new starter as a result.
However, McCoy left Monday's game against the Philadelphia Eagles in the second quarter with a lower leg injury. X-rays later revealed he suffered a fractured right fibula, which meant he would miss the rest of the season along with Smith.
Sanchez would replace McCoy and make his first appearance in nearly 3 years as he handed the ball off to Adrian Peterson, who went on to make a 90-yard touchdown run. The 32-year-old quarterback would also help the Redskins to an eventual field goal with his passing, but ultimately could not prevent a defeat as the Eagles took charge in the second half to prevail with a 28-13 win.
While Sanchez had a memorable second quarter, he was the only available quarterback the Redskins had after the game, and the Washington team are now looking to bring in Johnson, among others, according to the Washington Post. They also plan on signing defensive end/linebacker Marcus Smith.
Johnson currently plays for the San Diego Fleet of the Alliance of American Football and has not thrown a pass in an NFL game since 2011 when he was with the Tampa Bay Buccaneers. During his time there, he went 0-5 in five starts from 2009 to 2011 as he threw for 1,042 yards with five touchdowns and 10 interceptions. He has been with many organizations since leaving Tampa, but mostly as a backup, having only played in three NFL games since.
While Washington worked out free agent quarterbacks in Landry Jones and Ryan Mallett as reported by Ian Rapaport, the Post noted they decided to go with Johnson after he worked out with the team Nov. 19, following the initial injury to Smith. The 32-year-old also notably worked with Redskins head coach Jay Gruden in the past, when the latter was an offensive assistant and an offensive coordinator for the Buccaneers and the Cincinnati Bengals, respectively.
The Redskins have lost their last three games and are currently tied for second place with the Eagles at 6-6 in the NFC East. They host the New York Giants on Sunday next but are unlikely to make the playoffs especially with their current injury problems.
Philadelphia, meanwhile, could be set for a first place showdown with the Dallas Cowboys (7-5) when they meet in Week 14, though they are also in position to get the No. 6 wild card spot.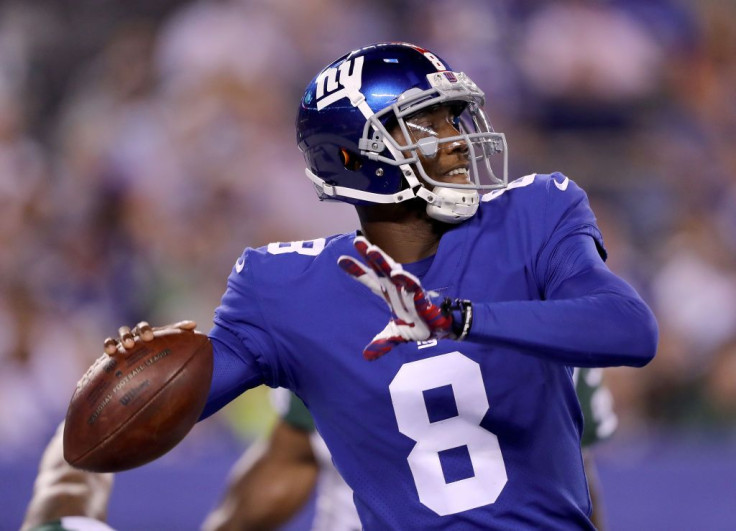 © Copyright IBTimes 2023. All rights reserved.