Washington Redskins vs. New York Giants: Scenarios, Prediction, Betting Odds, Preview For Week 17 NFC East Matchup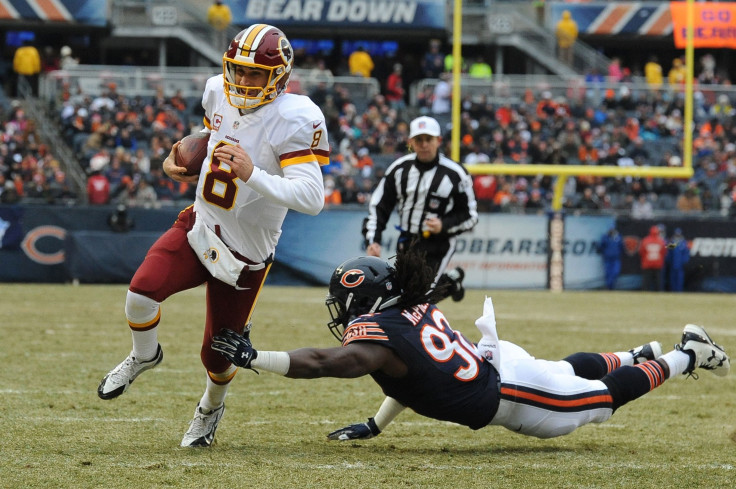 No matter the scenario, and there are a couple, the Washington Redskins (8-6-1) require a victory over their NFC East rival New York Giants (10-5) — who have nothing to really play for except avoiding injury — when the two sides meet Sunday afternoon at FedEx Field.
The Redskins, who stopped a two-game slide and have won two of their last three games, can sneak into the postseason as a wild card if they topple New York and as long as Green Bay and Detroit's NFC North title game doesn't end in a tie. Washington won't know that outcome until well after it leaves the field as the Packers and Lions headline "Sunday Night Football."
Another scenario calls for the Redskins and Giants to tie, followed by Detroit beating Green Bay and Carolina defeating or tying with Tampa Bay.
But the Redskins can take all the drama out the playoff scenarios by sweeping the season-series with New York, a feat Washington hasn't accomplished since 2011.
The Redskins and quarterback Kirk Cousins carry plenty of momentum into the matchup. Cousins went 18-for-29 for 270 yards and a touchdown, and rushed for two more scores as Washington gained 208 rushing yards, clobbering Chicago 41-21 last week.
It was the second-highest, single-game point total of the season for Washington's ninth-ranked offense, and it's in position to reach the playoffs for a second-straight season. The Redskins last did that in the 1992 season.
The Giants, however, won't just hand Washington a free pass to the playoffs as most of their starters are expected to play, including quarterback Eli Manning.
"This is pro football,'' Giants head coach Ben McAdoo told reporters Wednesday. "We get paid to coach and paid to play. That's what we do, it's what we do for a living. Another game on the schedule, it's a division game, it's an important game.
"We're going to play our players and go win the ballgame. That's what we're focused on.''
McAdoo, prepping for his first postseason berth in his first season as head coach, was still somewhat coy when it came to how much Manning would play. According to the New York Post, McAdoo was asked if Manning would play the entire game, to which he responded: "Eli's going to play the ballgame, yes.''
New York already has secured passage to the playoffs, despite Manning's poor performance in Week 16's 24-19 loss to Philadelphia. Heaving 63 total passes, Manning totaled 356 yards and a touchdown but equaled his season-high of three interceptions, the last of which came on New York's final possession.
Betting Odds: Washington -7.5 via Bovada.lv
Over/Under: 45 points
Prediction: Washington over New York, 30-20
© Copyright IBTimes 2023. All rights reserved.