Washington Wizards Starter May Become Possible Trade Option For Golden State Warriors
KEY POINTS
The Warriors are in a position to bounce back after their dismal campaign last season
Bradley Beal is on Golden State's radar
In addition, the Warriors have earned the second overall pick in the upcoming draft
Trade rumors are once again linking the Golden State Warriors to reliable gunslinger Bradley Beal as the franchise looks to revamp its lineup during the offseason.
Coming off a disappointing NBA season, the Warriors are anticipated to rekindle their winning tradition by maximizing the assets they have on their team.
The team's top score producers, Steph Curry and Klay Thompson, were out of commission for the majority of the regular season. As a result, the Warriors fell short in entering the playoffs.
Despite the disappointing finish, the Warriors landed them a good spot in the upcoming NBA Draft, putting them in the position for the second overall pick.
Furthermore, they currently have key pieces such as Andrew Wiggins and Minnesota's protected 2021 first-round pick from the D'Angelo Russell deal.
According to Sports Illustrated's Ryan McDonough and Chris Mannix, the Warriors have the right leverage to lure Beal from the Washington Wizards.
"Who says no if Bob Myers calls Tommy Sheppard of the Wizards and Myers offers Andrew Wiggins, the No. 2 pick in this year's draft, and Minnesota's first-round pick in the 2021 draft that is only protected to top three for Bradley Beal?" McDonough asked.
Beal is a two-time All-Star and has established himself as one of the league's top players. In the past season, he averaged 30.5 points per game to go along with 6.1 assists per night on 45.5 percent shooting from the field.
Several other trade ideas are thrown around for Beal, including the Brooklyn Nets, according to Yahoo Sports.
"If you want to use [Dinwiddie] as a trade piece to go out and get an established veteran, maybe you could pry Bradley Beal from the Washington Wizards, " ESPN's MacMullan shared.
Mannix believes that the Warriors find themselves at the forefront of a possible tug-of-war for Beal.
"You would have to make some kind of fundamental shift in the team you are hoping to be, but I am with you that this is a huge offer. Teams will put out offers for Bradley Beal, no question about it, but I am not sure there will be offers as big as the Warriors'," he said.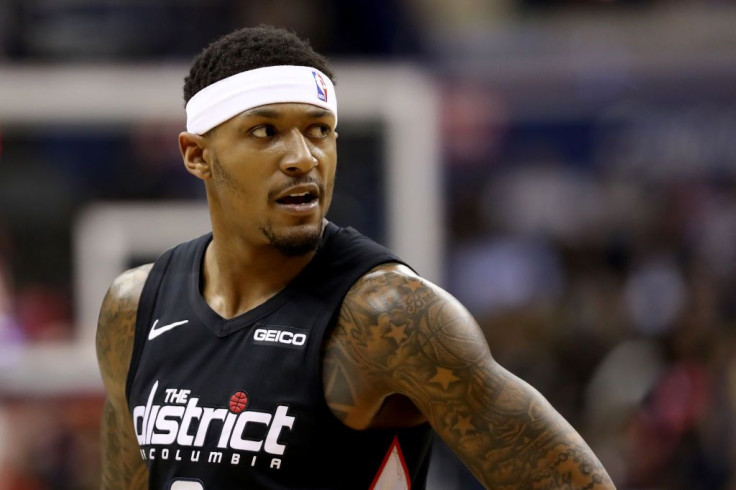 © Copyright IBTimes 2023. All rights reserved.