Watch: 81-Year-Old Woman Pulls Out 2 Giant Pythons From BBQ Grill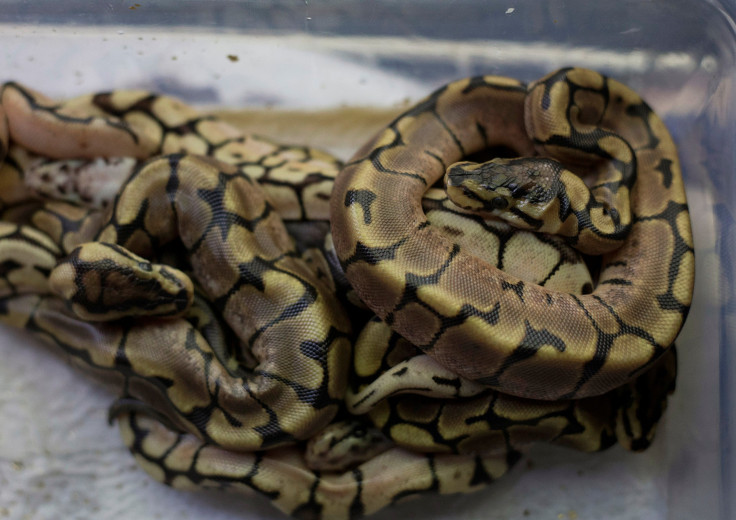 An incredible footage of an 81-year-old woman from Brisbane, Australia, removing two massive pythons from a barbecue with her bare hands emerged online.
In the video, Faye Morgan looks unfazed by the slithering reptiles and is seen getting them both into a plastic crate without a hitch.
The video starts with Morgan lifting the lid of the barbecue grill, revealing a slithering mass on top of the grill. As this is happening, homeowner Marc Wright holds the lid and Morgan calmly grabs one of them by the head and tail and pulls it out.
She then goes back for the second one with Wright standing nearby and watching on, ready to trap it in a box. Morgan grabs the second one the same way and puts it into the box.
Morgan and Wright look visibly relieved after placing both the reptiles into the box safely.
"I lived in Victoria and when I was growing up Dad was pretty good at giving us in the instructions on safety with snakes and all that. We were trained on what to do, what not to do," Morgan said, local news website 2gb.com reported. "I'm not scared, I love it. I say goodbye to them, and say 'hope you have a lovely life' when I relocate them. I don't recommend that anyone should do what I do."
Morgan had pulled out a python from the same spot 18 months ago.
"About 18 months ago they had a huge snake, well over 3ft. I came to the rescue," she said.
The video, obtained by local television station 7 News Brisbane has gone viral on social media.
"Nothing is going to stop nan from having BBQ on Sunday – good one Nanna Faye, braver woman than I will ever be," one person commented on Facebook.
"This woman is so AMAZING. I aspire to be like her one day she doesn't even look frightened just trying to get them out safely and quick as possible," another person wrote.
However, experts in Brisbane warned the public to refrain from trying to catch them as this can cause harm.
Stuart McKenzie, from The Snake Catcher 24/7 Sunshine Coast said, "The main message is just don't do it. If it's in a backyard, take your pets and kids away, and always maintain a safe distance from the snake."
© Copyright IBTimes 2023. All rights reserved.