Watch: Celtics Forward Gordon Hayward Leg Injury On NBA Opening Night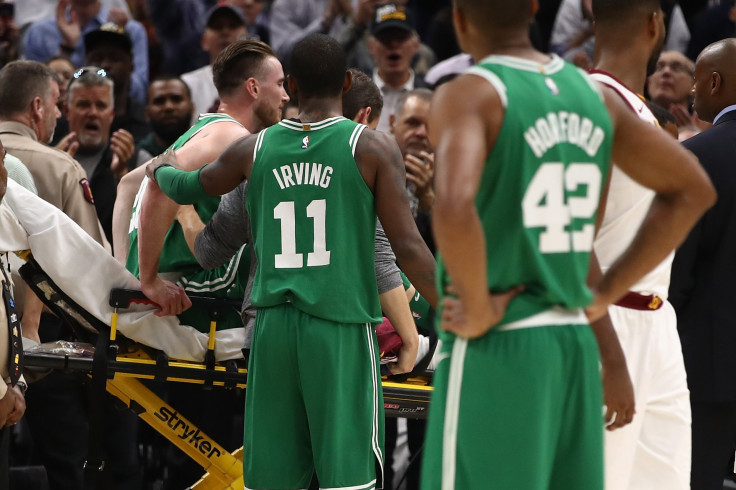 Tuesday night was a bad night for the Boston Celtics, but it was an especially bad night for newly acquired forward Gordon Hayward.
Hayward who signed with Celtics this last offseason went down with a gruesome injury in the NBA's opening game Tuesday night against the Cleveland Cavaliers. Hayward went up for an alley-oop and collided with Cavaliers star LeBron James and came down awkwardly on his left leg. He then writhed in pain on the floor just six minutes into his debut as a Celtic.
Hayward, 27, was carted off the floor of Cleveland's Quicken Loans Arena on a stretcher and was medically evacuated from the game. He suffered a fractured ankle and tibia, according to ESPN Wednesday. After Hayward was taken off the floor, James went into the locker rooms to check on him.
The Celtics went on to lose the game 102-99. Celtics Coach Brad Stevens commented on the injury after the game.
"You hurt for him. He's put in a lot of great work. And I thought he had his most comfortable week as far as feeling like he was going to play really well," said Stevens. "But now we'll hopefully get a full recovery, right? And so it's a tough deal, but I guess that's part of it, the risk of injury. I really feel for him."
Hayward signed with the Celtics in July to a four-year $128 million contract after seven years with the Utah Jazz.
© Copyright IBTimes 2023. All rights reserved.