Watch Impatient Putin Get Bored Waiting 50 Seconds For Erdogan To Arrive
KEY POINTS
Russian President Vladimir Putin waited in a room for 50 seconds for Turkish President Recep Tayyip Erdogan
Putin, who was in Iran to discuss the war in Syria, entered the room with the expectation that Erdogan would follow
The wait was "sweet payback" for an incident in Moscow that saw Erdogan wait outside a room for two minutes
Russian President Vladimir Putin was forced to stand and wait for nearly a minute in front of cameras during his recent trip to Iran.
The head of state waited in a room for 50 seconds Tuesday as cameras rolled before his Turkish counterpart, Recep Tayyip Erdogan, arrived and shook his hand, footage of the scene captured by Turkish state media agency Anadolu showed.
Putin, who was in the country to discuss the ongoing civil war in Syria, had walked into the room thinking Erdogan would follow him, according to Business Insider.
Tuesday's scene was a reversal of the two leaders' 2020 meeting in Moscow, which saw Erdogan wait with his entourage for nearly two minutes outside a room.
Putin also reportedly kept leaders like former German Chancellor Angela Merkel, former Ukrainian President Viktor Yanukovych, and former Japanese Prime Minister Shinzo Abe waiting for hours when they were in power.
Erdogan's experience in 2020 caused widespread outrage in Turkey, according to The Washington Post.
Putin's wait in Iran was "sweet payback" for the incident, according to Joyce Karam, a senior correspondent at the United Arab Emirates-based The National newspaper.
"Those 50 seconds that Erdogan made Putin wait, looking frazzled in front of cameras say plenty of how much has changed after Ukraine," Karam said on Twitter.
Turkey has staked out as a peacemaker since Russia invaded Ukraine, hosting multiple summits between the two warring countries' representatives.
Aside from Erdogan, Putin met with Iran's leader, Ayatollah Ali Khamenei, and Iranian President Ebrahim Raisi during his visit to their country.
Putin reportedly hoped to form a new alliance in the face of Western sanctions imposed on his country due to the invasion of Ukraine.
A "significant" commitment to security cooperation between Russia and Iran was discussed during Putin's visit, according to Raisi.
Putin's meeting with Iranian and Turkish leaders happened the same day Iran's national oil company, the National Iranian Oil Company (NIOC), signed a $40 billion memorandum of understanding with Russian state-owned gas company Gazprom.
Gazprom will help NIOC develop the Kish and North Pars gas fields and six oil fields, Iran's oil ministry's news agency SHANA said.
The Russian gas company will also be involved in the completion of liquefied natural gas projects and the construction of gas export pipelines.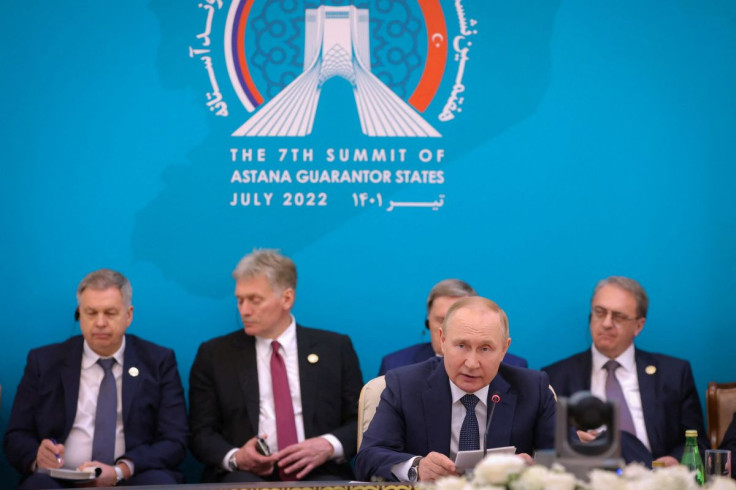 © Copyright IBTimes 2023. All rights reserved.