WATCH: NFL Fan Brutally Punches 62-Year-Old Man In The Face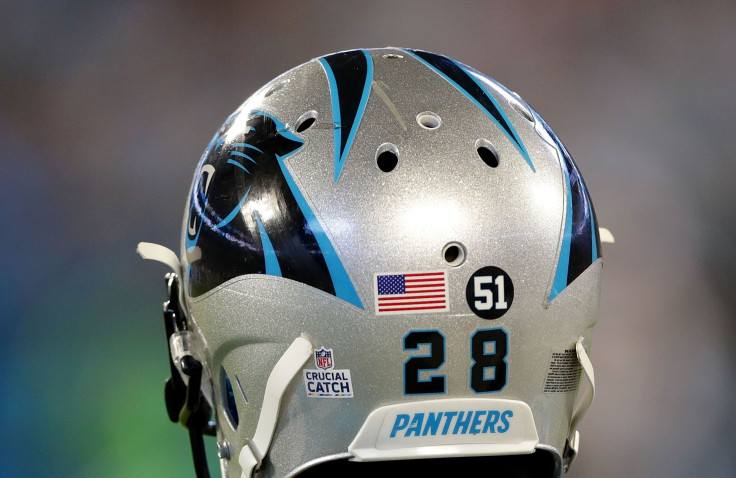 An NFL fan was arrested and charged with simple assault Friday, after he was caught on video punching a 62-year-old man in the face multiple times during the Carolina Panther's 28-23 loss to the Philadelphia Eagles at the Bank of America Stadium, Charlotte, North Carolina, on Thursday.
The Charlotte-Mecklenburg Police Department (CMPD) identified the suspect as Kyle Adam Maraghy and posted about his arrest on its official Twitter account.
Earlier on Friday, the Panthers released a statement stating they had identified Maraghy were working with the CMPD on pursuing charges against him.
"We have reviewed video tape of the incident and have identified the perpetrator," Panthers executive director of risk management, Lance Emory, said in a statement. "We are working with the Charlotte Mecklenburg Police Department to pursue charges to the fullest extent of the law," the Washington Post reported.
Emory added: "The Carolina Panthers are committed to a fan-friendly and family-friendly stadium experience. The behavior exhibited by the perpetrator is unacceptable and will not be condoned at Bank of America Stadium."
The video of the shocking incident went viral on social media overnight after it was posted on Instagram by Warren Carrigan, who was just a few seats away from the scene of the altercation.
The footage shows Maraghy, in a black Cam Newton jersey, sucker punching an older man in the face at least for times. The older man, who was not identified, was reportedly upset at Maraghy and his girlfriend for standing throughout the game. Charlotte police said the man on the receiving end was 62 years old, and was later treated for his injuries at the stadium and released.
Carrigan, who was identified by Charlotte Observer as the one who captured the ugly incident, described what exactly led to the incident in the caption to the video on his Facebook page.
"Words gradually got more and more escalated," Carrigan wrote. "There previously was a single mom and her son between us, [but] they left halfway through the 3rd [quarter]. After that, the lid was off. The [older] dude took offense to the couple never sitting down and obstructing his view. The victim telling the dude bro how they're being j---s and how rude they are for not sitting. The dude bro turns around and calls the victim a 'geriatric f--k,' 'f----t'and 'hick.' Then sucker punches him right in the face."
The NFL helped in the investigation to find the perpetrator. The victim also filed a police report Friday morning.
© Copyright IBTimes 2023. All rights reserved.