Rush Limbaugh Says Trump's Behavior Toward NFL Players Makes Him 'Nervous'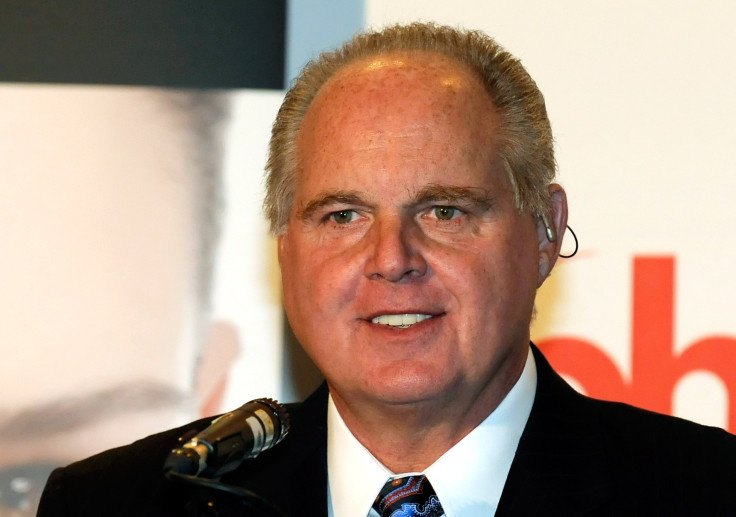 American Radio show host and conservative political commentator, Rush Limbaugh, raised concerns on Wednesday on his radio show about President Donald Trump's unending row with National Football League (NFL) players.
Limbaugh, who has been a Trump supporter since he won the Republican nomination in 2016, said he was nervous about Trump dictating NFL players' behavior. "There's a part of this story that's starting to make me nervous, and it's this: I am very uncomfortable with the President of the United States being able to dictate the behavior and power of anybody. That's not where this should be coming from," he said.
He also clarified that he believed Trump's motives were pure; however, forcing someone to do something was not helpful. "Trump is continually tweeting; I know what he's doing, and I understand why he's doing it, and his motives are pure; don't misunderstand. But I don't think that it is useful or helpful for any employee anywhere to be forced to do something because the government says they must," he insisted.
He also said the players, who were disrespecting the flag or the anthem, were affecting the league's business. "You can see what's happening to TV numbers. You can see what's happening to sales of tickets and memorabilia. The NFL's in a world of hurt right now, and it's the people who play the game who are doing the primary damage: The players," he said.
Limbaugh hosts his radio show, "The Rush Limbaugh Show," from Palm Beach County, Florida, where he currently resides. Limbaugh, who was born Jan. 12, 1951 in Cape Girardeau, Missouri, started his career in radio in the 1970s but was fired for being too controversial. His greatest achievement came in Aug. 1988 when his show, "The Rush Limbaugh Show" premiered.
The show is still known for its political focus and extreme conservative slant. According to an estimate in December 2015 by Talkers Magazine, Limbaugh had a cumulative weekly audience of 13.25 million unique listeners making this show the most listened-to talk-radio program in the United States.
He has also appeared on television as a political commentator and authored a lot of books including, "The Way Things Ought to Be" in 1992. According to the website, Celebrity Net Worth, Limbaugh is one of the most popular and highly sought after radio talk show hosts in the world with a net worth of $550 million. He was also inducted into the Radio Hall of Fame in 1993.
The NFL protest started when during a rally in Alabama last month, Trump said the players, who kneeled during the national anthem, should be fired. The controversy garnered more attention when Vice-President Mike Pence left the 49ers-Colts NFL game in Indianapolis on Oct.8 after he saw some players kneeling as the anthem was being played.
© Copyright IBTimes 2022. All rights reserved.
FOLLOW MORE IBT NEWS ON THE BELOW CHANNELS