Watch: People Cook Hotdogs On Erupting Iceland Volcano
KEY POINTS
A long-dormant volcano on the Reykjanes Peninsula in Iceland erupted Friday night
The Fagradalsfjall volcano had been dormant for 6,000 years
This was the first eruption of any volcano in the peninsula in 781 years
People have flocked to an erupting volcano near Iceland's capital Reykjavik not just to see the awe-inspiring sight but also to roast hotdogs. Dormant for about 6,000 years, the volcano finally erupted last Friday, following weeks of earthquakes in the region.
Aerial footage shared by the Icelandic Meteorological Office (IMO) via Facebook showed a crack in Mount Fagradalsfjall on the Reykjanes Peninsula spewing fountains of fiery lava Friday evening, lighting up the night sky. The glow could be seen from the outskirts of Reykjavík, which is about 32 kilometers (20 miles) away, Associated Press reported.
The site was initially blocked off, but people were allowed to approach the area by Saturday afternoon, BBC reported. One of those who made the trek said it was "absolutely breathtaking."
"It smells pretty bad," Ulvar Kari Johannsson, a 21-year-old engineer, told the AFP news agency. "For me what was surprising was the colors of the orange: much, much deeper than what one would expect."
Scientists who were studying the volcano even cooked up some hotdogs on the lava. See the video below.
Icelandic drone pilot Bjorn Steinbekk also captured a stunning video of the volcano using a drone, which flew through the airborne lava.
This was the first eruption the peninsula had witnessed in 781 years. But according to the Icelandic Meteorological Office, the eruption is a relatively minor one.
"The eruption is considered a small one and the eruption fissure is about 500-700 meters (1640-2300 feet) long," said the IMO in a statement. "The lava is less than 1 square kilometer (0.4 square miles) in size."
No evacuations will be needed, and no structures were at risk of getting damaged in the course of the event. Authorities advised residents nearby to stay indoors and keep their windows closed to avoid breathing in gas pollution expelled by the volcano.
"Gas pollution can be expected due to the eruption in Reykjanes, most close to the source. Gas distribution is to the northeast from the eruption sites towards the capital area, but it is unlikely that gas concentrations will be dangerous there," the meteorological office said in a tweet Monday.
The eruption also did not affect air traffic as flights were still able to continue and stay on schedule.
The Reykjanes Peninsula is a volcanic and seismic hot spot where more than 40,000 small earthquakes have occurred over the past four weeks -- a significant increase from the 1,000 to 3,000 earthquakes recorded each year since 2014, per Reuters. But prior to this, the country was no stranger to tremors as it straddles two tectonic plates that are drifting in opposite directions.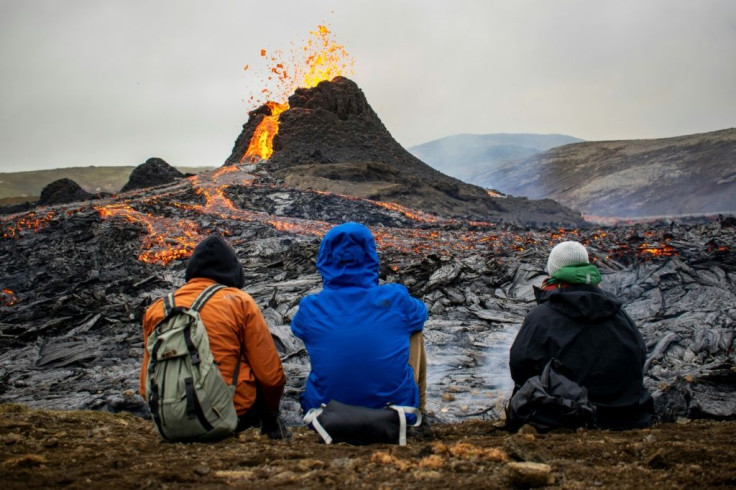 © Copyright IBTimes 2023. All rights reserved.