Watch: Rare 'Firework' Jelly Fish Spotted During Sea Expedition Near Mexico
During a recent sea expedition, researchers spotted a rare jellyfish off the Socorro Island, Mexico. The Halitrephes Maasi jellyfish is extremely rare and is one of a dozen to have been ever seen. This jellyfish looks like a "firework" from is appearance.
Researchers onboard the Exploration Vessel Nautilus — a research vessel operated by the Ocean Exploration Trust — captured stunning photographs of this rare species, the Telegraph reported.
The Halitrephes Maasi jellyfish is a species of deep-sea jellyfish belonging to the family Halicreatidae. They are usually spotted at a depth of 4,000 to 5,000 feet under the water. However, this rare sighting of the jellyfish was barely at a depth of almost a mile — 1609 meters — which in itself is a rare phenomenon.
The team of researchers at the exploration trust wrote that they started this year with deep sea fireworks stating that whenever they witness anything remarkable floating in the sea during their expeditions, they quickly document the discovery.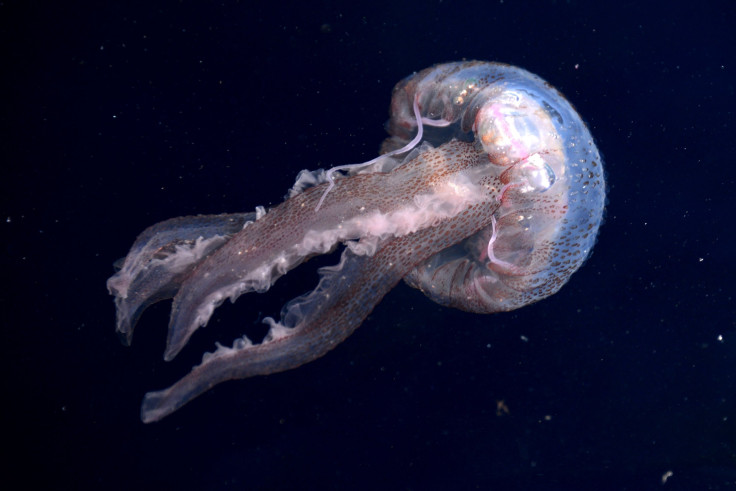 Speaking of the rare jellyfish, the team said that the frilled tentacles of the Halitrephes Maasi were discovered in the Revillagigedo Archipelago off the Mexican state of Baja California. Researchers said that the "radial canals that move nutrients through the jelly's bell form a starburst pattern that reflects the lights of ROV Hercules with bright splashes of yellow and pink."
They also shared a video of the rare species on their website.
The Ocean Exploration Trust was started by Dr. Robert Ballard in the year 2008. Dr. Ballard is widely known for discovering the wreckage of the Titanic.
Twitter users couldn't control their excitement on learning about the extremely rare "firework" jellyfish.
"It's amazing to have such spectacular color on a jellyfish, so far below the ocean, very cool," a user wrote on Twitter.
"Beautiful! The incredible world beneath the ocean that humans have yet to explore-amazing isn't it?" wrote another user.
© Copyright IBTimes 2022. All rights reserved.
FOLLOW MORE IBT NEWS ON THE BELOW CHANNELS