WATCH: Wild Brawl Erupts During Mariners-Angels MLB Game
KEY POINTS
Players exchange blows in a heated MLB game on Sunday, June 26
Several players and officials have been ejected due to the ruckus
The Angels still walk away with the win against the Mariners
Tensions flared on Sunday, June 26 when the Seattle Mariners faced the Los Angeles Angels, resulting in the ejection of eight individuals.
It all started when Jesse Winker of the Mariners was hit by the first pitch of the second inning by Angels opener Andrew Wantz.
The 26-year-old player also threw a pitch that hit Julio Rodriguez in the head in the first inning.
The first pitch to Rodriguez was perceived to be in response to the 95 MPH fastball of Erik Swanson near Mike Trout's head in the ninth inning of their game last Saturday, June 25.
Furthermore, the throw drew the ire of the three-time American League MVP.
Umpires intervened and only warnings were issued to both dugouts.
"That probably shouldn't happen in the game, what happened out there today," Seattle manager Scott Servais said. "Emotions running high, but it was pretty clear what was going on. They switched, put an opener in there to throw some balls at us. Got out of hand from there, and kind of a black eye."
However, Wantz insisted that his throw was not meant for retaliation.
"I was pretty amped up for my first start, and the first one just got away from me," Wantz said. "It was sweaty. I was sweating. The first-day game I've pitched in [in the majors], and that's that. The second one to Winker was a cut fastball inside, and [I] just yanked it. That's all I've got to say."
As a result of the brawl, among those ejected were Servais, Los Angeles manager Phil Nevin and six players.
Among the players tossed include Winker, Rodriguez and J.P. Crawford from the Mariners side.
For the Angels, banished for the game were Wantz, Raisel Iglesias and Ryan Tepera.
In the ruckus, an injured Anthony Rendon threw an open left hand toward Winker's face. This was despite his right hand being already in a cast.
Rendon is already out for the year for the second-straight season.
Aside from the brawl, the game went on without further incidents as the Angels went on to win, 2-1.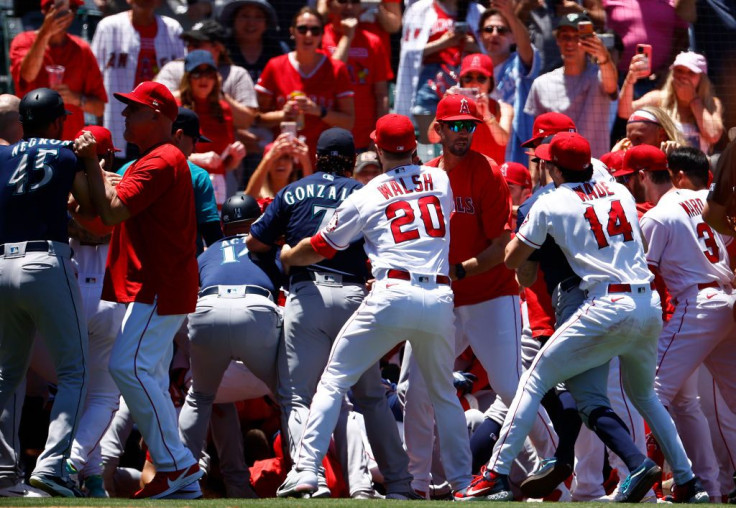 © Copyright IBTimes 2023. All rights reserved.