Weibo Circulates False Reports of Foxconn Strike in Beijing, Highlights International Image Problem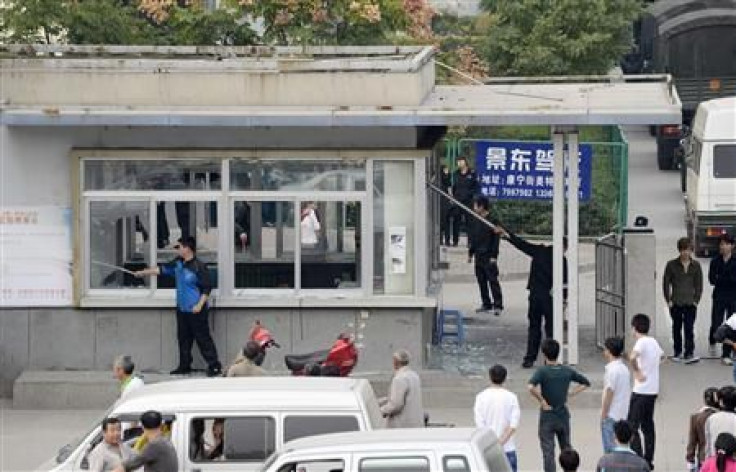 Foxconn has had many reports about its disgruntled employees in the media over the past decade, incuding a rash of employee suicides.
Last year alone, there were four major incidents in which angry Foxconn employees disrupted their work to go on strike for various reasons, including inadequate pay and poor work conditions. One incident at a Foxconn factory in Taiyuan escalated into a 2,000 person brawl, and it forced the plant to shut down.
On Tuesday, social media was abuzz with reports that 1,000 factory employees at Foxconn -- Apple, Inc.'s manufacturing partner in China -- went on strike at a Beijing plant due to inadequate overtime compensation ahead of the Chinese New Year holiday.
According to an initial report by the Shanghaiist.com, a Shanghai-based news blog, the workers went on strike because of insufficient overtime wages for pre-Chinese New Year hours, holiday privileges, and end-of-year bonuses.
On Weibo, China's version of Twitter, and other forms of social media, there were reports that employees left their assembly lines and congregated in the factory's cafeteria. Photos from the incident included workers crowded around a long table, presumably negotiating their compensation with management. Another photo shows the congregation of "strikers" awaiting answers to their concerns.
Weibo chatter claimed that the strike continued well into Tuesday night as an agreement between Foxconn and the employees was still being negotiated. According to China tech-blog Micgadget, the Beijing government dispatched police forces to the factory to prevent the strike from escalating any further. The report also said the settlement was made by Wednesday.
Now, days after the supposed strike was resolved, Foxconn has released a statement, obtained by TheNextWeb.com, claiming that reports of a strike at the Beijing plant were false:
"We can confirm that a recent online report alleging a workplace disruption at our facility in Beijing is without foundation and completely inaccurate. The management team at that campus, together with representatives of the Human Resources department and the Foxconn Labor Union, hosted a town hall meeting on January 22 attended by many of our employees. That meeting, which lasted two hours, was arranged to address employees' questions on matters relating to salary and bonuses, among other topics. Contrary to the online report, there was no disruption in our operations in that facility.
The welfare of our employees is our top priority and this meeting was part of a regular process that our management carries out to engage with employees, to update them on our company's developments and to better understand the needs of our employees."
Media sites reporting the initial incident as a protest have since issued updates. The media's quick jump to label the events in Beijing as a strike or protest may highlight Foxconn's persisting PR problem, perhaps because Foxconn's long history of unhappy employees is still hard to ignore.
By 2010, a reported 17 Foxconn factory employees had committed suicide at factory locations over a five-year period -- nine of them between March and May of that year. Though technically a separate company from Foxconn, Apple took action. Apple executives responded to the spate of suicides and the criticism of the sweatshop-like working conditions at the factories by sending over Tim Cook, Apple's current CEO and then-COO, to a factory in Shenzhen, China.
Cook brought with him two "suicide experts" who were recruited by Apple, and they surveyed more than 1,000 Foxconn employees. Apple's team also advised Foxconn's management to increase training and monitoring of on-site health care professionals, in addition to attaching large nets to the sides of factory buildings.
Though Apple has taken some steps to aid Foxconn in improving factory work and campus living conditions, several human rights and labor groups are still less than impressed with Foxconn's factory environments.
Last October, thousands of workers at Foxconn's Zhengzhou factory walked out after the manufacturing company and Apple imposed strict quality control demands without providing adequate training.
China Labor Watch, a rights group that monitors conditions in various factories in China, said that new quality demands for the iPhone 5 were not met by employees due to lack of training, resulting in several physical conflicts between workers.
"Factory management turned a deaf ear to complaints about these conflicts and took no corrective measures," the group said in a statement.
This time, reports about discontented employees going on strike were false. But if history is any indication of the future, it may only be a matter of time before Forxconn's next strike-related headline.
© Copyright IBTimes 2023. All rights reserved.