Weird Super Bowl 2019 Prop Bets: Funny Wagers Include Tony Romo, Maroon 5 For Patriots-Rams Game
Prop bets are as much a part of Super Bowl betting as the point spread and total, and there are far more possible wagers than just different aspects of the actual game. Countless props that have nothing to do with the action between the New England Patriots and Los Angeles Rams are available for the public to put their money on.
There are the usual prop bets about the coin toss and the length of the national anthem, but each year online sportsbooks come up with some quirky options. They range from the clothing Adam Levine might be wearing during the halftime show to what will happen to the price of Bitcoin during the game.
Below are 10 of the weirdest prop bets for Super Bowl 2019 at Bovada.lv (via OddsShark).
Will Adam Levine be wearing a hat when he begins the halftime show?
Yes +200
No -300
Will any scoring drive take less time than Gladys Knight to sing the national anthem?
Yes -140
No EVEN
Total Donald Trump tweets on Feb. 3
Over 6 -140
Under 6 EVEN
What will happen to the price of Bitcoin during the Super Bowl?
Bitcoin price is more at game's end -130
Bitcoin price is less at game's end -110
What color liquid will be poured on the winning coach?
Clear/Water +220
Lime/Green/Yellow +225
Orange +400
Blue +400
Red +600
Purple +1000
Will a fan run onto the field during the game?
Yes +500
No -900
How many commercials will run during the Super Bowl?
Over 96 -120
Under 96 -120
Which commercial will appear first?
Bud Light -105
Budweiser +200
Stella Artois +550
Michelob Ultra +550
Bon & Viv Spiked Seltzer +550
Will Mark Wahlberg attend the game and leave early?
Yes +550
No -1000
How many plays will Tony Romo predict correctly?
Over 7.5 -120
Under 7.5 -120
​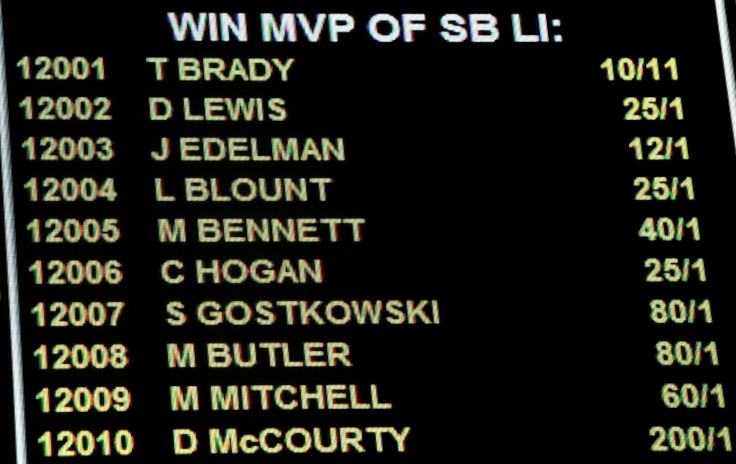 © Copyright IBTimes 2023. All rights reserved.