What Are The Dead Sea Scrolls? 12th Cave Containing Ancient Hebrew Bible Discovered In Isreal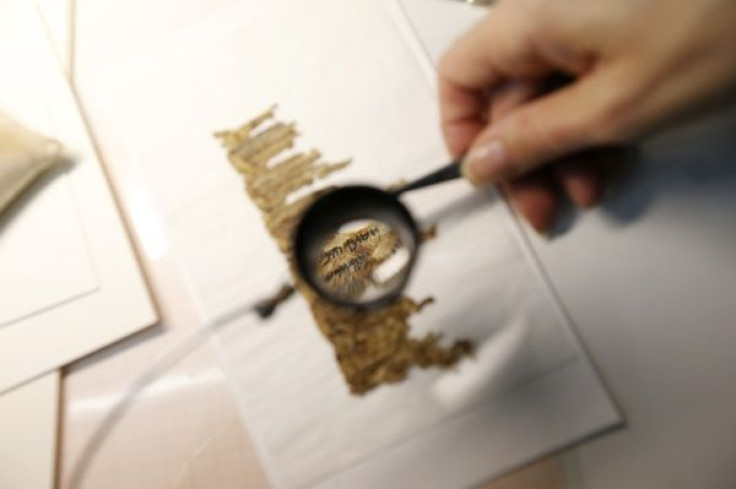 Archeologists discovered a cave in which they believe contained the Dead Sea Scrolls in the Judean desert, according to Wednesday reports. Researchers from Israel's Hebrew University said the cave was the 12th location to once house the ancient documents, which date back early as the 4th Century B.C.
The Dead Sea Scrolls, considered the greatest manuscript of all time, are made up of over 800 documents that make up the earliest pages of the Hebrew bible and the beginning teachings of Christianity, including the 10 Commandments. The scrolls, which are written in Hebrew, Aramaic and Greek feature biblical and apocryphal scriptures, prayers, legal texts and sectarian documents, according to Biblical Archeology.
It is unknown who actually wrote the scrolls. However some scholars believe a Jewish sect called the Essenes were responsible for writing the Dead Sea Scrolls. The scrolls are currently housed at the Israel Museum in Jerusalem.
There were no scrolls actually discovered in the latest cave, but archeologists found storage jars, pieces of scroll wrapping and leather tying string at the site. The pottery and wrappings were found in niches within the caves walls inside a 12 to 20 foot tunnel near the back of the cave.
The excavating team, lead by Dr Oren Gutfeld and Ahiad Ovadia from the Hebrew University of Jerusalem as well as Dr. Randall Price and students from Liberty University in Virgina, said the scrolls were most likely stolen from the cave by Bedouin people sometime during the 1950s.
"This exciting excavation is the closest we've come to discovering new Dead Sea Scrolls in 60 years. Until now, it was accepted that Dead Sea Scrolls were found only in 11 caves at Qumran, but now there is no doubt that this is the 12th cave," Gutfeld said in a statement. "Although at the end of the day no scroll was found, and instead we 'only' found a piece of parchment rolled up in a jug that was being processed for writing, the findings indicate beyond any doubt that the cave contained scrolls that were stolen."
© Copyright IBTimes 2023. All rights reserved.