What Is 'Black Monday'? Why Chinese State Media, Usually Upbeat, Used Negative Term For Major Stock Market Tumble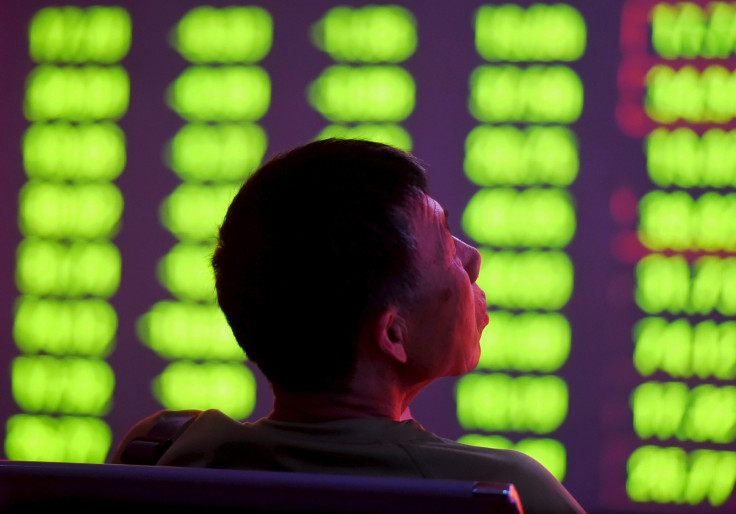 Chinese media deviated from their standard upbeat approach to news coverage Monday, dubbing the day "Black Monday" as the Shanghai composite index had its worst slump in eight years. Its 8.5 percent drop reverberated throughout Asian and global markets, a dive that the state's official news outlet described in a way that recalled previous major stock market crashes with global repercussions.
On Twitter, the official Chinese news outlet, Xinhua News Agency, used the term "Black Monday." In an article, however, it described the stock market's dive as "astonishing," given that it had happened one day after a government-approved move that was expected to help counter losses by allowing the state pension fund to invest in the stock market.
The term "Black Monday" can refer to a number of incidents when stock markets crashed or declined significantly. On Oct. 19, 1987, markets in East Asia crashed, leading to the largest percent decline in a single day in the Dow Jones Industrial Average. Other major indexes also dropped by more than 20 percent by the end of that month. Black Monday has also been used to describe the day that preceded the 1929 stock market crash that led to the Great Depression.
Other stock indexes throughout the region suffered Monday. The Hong Kong Han Seng index dropped 5 percent Monday, while Japan's Nikkei 225 index dropped by 4.61 percent, Xinhua reported.
Ordinarily, Chinese news media have attempted to cast even the most incontrovertibly negative news in a positive light. In 2013, several state-run media described the country's notorious smog as actually having benefits -- not for public health, but for the sake of defense in the event of a military attack, the Huffington Post reported. CCTV, the state broadcaster, also suggested that pollution helped unify the Chinese people and made them more knowledgeable.
In June, after hundreds died when a cruise ship capsized on China's Yangtze River, state media highlighted the good looks and bravery of a navy rescuer. It also censored images of the disaster and focused instead on depicting ongoing rescue efforts, National Public Radio reported.
Even though Xinhua described the recent market tumble as "Black Monday," it nevertheless managed to find a silver lining to the crisis. As analysts and traders dismissed the state's decision over the weekend to grant pension funds the ability to invest in stocks as too little, too late, Xinhua went with a different approach.
"Economists expect the move to make trading less volatile in the long run," it reported.
© Copyright IBTimes 2023. All rights reserved.