What Does Colombia's Peace Process Mean For Millions Of Displaced People?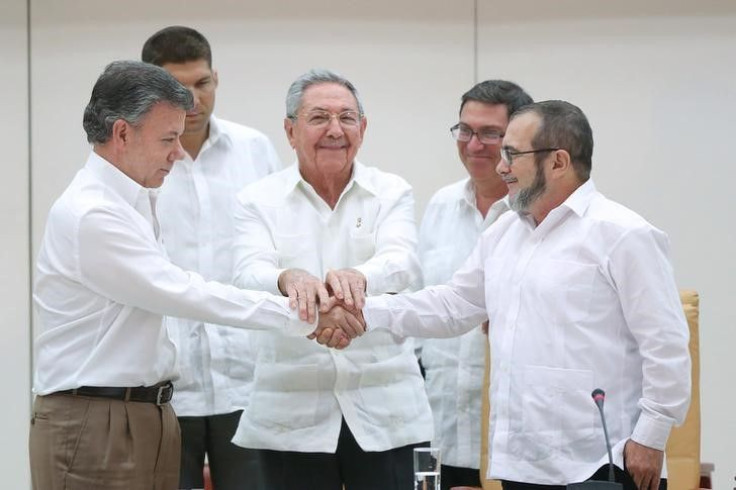 Colombia is closer than ever to clinching a historic peace deal to end its 50-year civil war, after government and rebel leaders recently announced a breakthrough in negotiations that they said could lead to a final accord in the next six months. With peace potentially within arm's reach, expectations are high that the government can make a leap forward in addressing the war's biggest casualty: the displacement of millions of people forced out of their homes by years of violent conflict.
Colombia has among the world's highest numbers of internally displaced people from its long-running war, and providing compensation to them remains one of the biggest hurdles ahead for President Juan Manuel Santos' government. If the country passes through a final peace deal next year, it would put more pressure than ever on the administration to dramatically boost its efforts to return people to the homes they lost in the conflict. But a swift return home for those displaced may be too much to expect, analysts say. A peace accord would not necessarily end the threat of violence that many displaced people may face back home, and questions remain unanswered over how the government will fund a sprawling restitution campaign as falling global oil prices have forced it to cut its budget.
Decades of conflict between Colombian military forces and armed insurgents, rooted in grievances over stark inequality and spurred by funds from the illegal drug trade, have killed more than 220,000 people and forced more than 6 million from their homes, according to government estimates. Out of all the countries in the world, only Syria has higher numbers of internally displaced people. Sixty percent of Colombia's displaced live in poverty, according to a government survey released in January.
The peace accord, which is being negotiated in Cuba by government officials and rebels from the Revolutionary Armed Forces of Colombia (FARC), Colombia's main leftist guerrilla group, doesn't currently include a specific plan to address those displaced. The most recent phases of negotiation have primarily centered around a justice plan for sentencing those who have committed atrocities during the war, and reintegrating FARC rebels into the political process. But the plan also calls for demobilizing FARC fighters, which could clear out conflict from territories they control and speed up the process of returning some displaced people to their homes.
Colombians who were forced to flee due to conflict can reclaim their property under a landmark 2011 law that allows restitution for victims of the war. More than 7 million people have registered for some form of compensation under that law. But only around 200,000 of some 20 million acres of land stolen during the war has been returned to their owners so far, according to a November report by U.K.-based human rights group Amnesty International. Many of those who have tried to return home have faced threats of violence from guerrillas and paramilitary groups, while others found their hometowns devoid of viable infrastructure.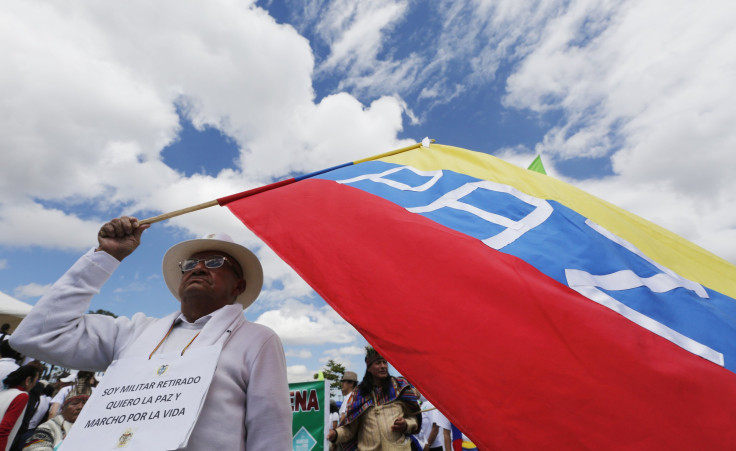 Even if Colombia is able to hash out a peace agreement early next year as promised, violence may still be a concern, said Francesco Bogliacino, an economics scholar at the National University of Colombia in Bogotá. He pointed out that a 2003 peace agreement between Colombia and around 35,000 paramilitary groups that cropped up to battle the FARC resulted in many of those fighters joining new criminal groups that have engaged in drug trafficking and still wage violence in many parts of the country.
Fighters could be demobilized under a new peace plan, but "part of the soldiers recruited by the FARC could go into new groups that could be linked to narcotrafficking, and be associated with another security problem," he said.
An agreement with the FARC also would do little to address other criminal groups that still prevent others from returning to their homes, said Adam Isacson, senior associate for regional security at the Washington Office on Latin America, a think tank based in Washington, D.C. "It's the new criminal armed bands who have close ties to local landowners that are the biggest obstacle, and I don't think Colombia has a plan for it," he said.
Other Colombians who qualify for restitution are prevented from returning home simply because conflict has wiped away livable conditions there. "Even if you're a displaced person and end up in Bogotá, for example, you're in a terrible situation in terms of access to many things," Bogliacino said. "But you're in Bogotá, which means your kids can go to school. For many, going back home means, for example, if it's an abandoned zone, there is no school at the moment. People want certain conditions that are necessary to go back."
Colombia's government has earmarked around $20 billion for the restitution program, which is in effect until 2021. Much of those expenses go to judicial proceedings for transferring land titles to their original owners, as well as paying out reparations to victims of violence. However, the cost of rebuilding infrastructure is still an open question, as is Colombia's capacity to pay for it.
Despite the turmoil of the war, Colombia has a stable economy that is expected to expand by around 3 percent in 2015. But the decline in the global price of oil, Colombia's main export as Latin America's fourth-largest oil producer, has forced it to rein in its spending as the government announced an austerity budget for 2016.
Some of that funding could come from foreign aid from the United States and other countries, said Virginia Bouvier, senior adviser for Latin America programs at the U.S. Institute of Peace, an independent think tank based in Washington, D.C. "But the fact that we don't know what the ask is from the Colombian government at this stage is a little bit worrisome," she said. "It's not as though the date the peace accord is signed, the pipes of funding will open up and flow to Colombia. It takes a bit longer than that."
With just months to go on Colombia's timetable for peace, and a little over five years left on the restitution program, Santos' government has a gargantuan task on its shoulders to make good on its promises of healing and compensation to a war-weary public.
"At the moment, we are crossing our fingers," Bogliacino said of the peace negotiations. "But we have to be realistic now. [Last week's breakthrough] was a great move forward, but there are still a lot of complications. A lot of things can go wrong in the meantime."
FOR FREE to continue reading
✔️ Unlock the full content of International Business Times UK for free
offer available for a limited time only
✔️ Easily manage your Newsletters subscriptions and save your favourite articles
✔️ No payment method required
Already have an account?
Log in
© Copyright IBTimes 2023. All rights reserved.