What Is Girls Day? Donald Trump 'Hina' Doll Debuts For Japanese Holiday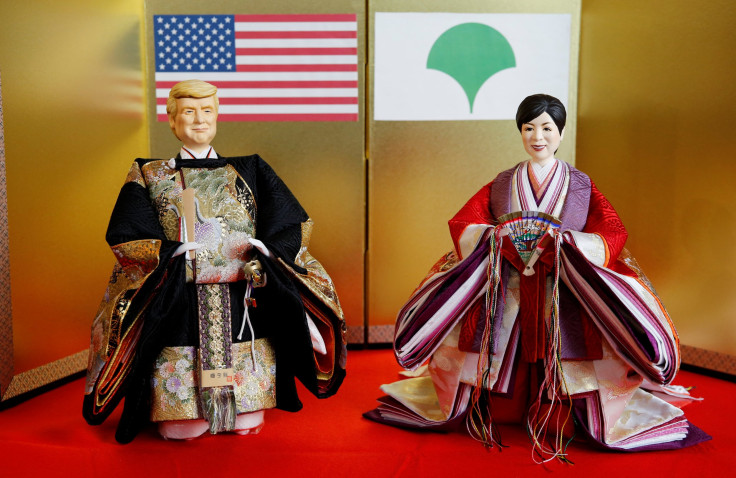 Girls Day, an annual female-focused Japanese celebration known as Hinamatsuri, will take place March 3. And this year, participants might spot a familiar face: President Donald Trump.
With little more than a month to go before the holiday, a Japanese doll maker debuted the Trump doll Thursday, Reuters reported. The figure, which was made by Kyugetsu Co Ltd, was dressed in a traditional gold and black kimono and immediately drew attention.
Girls Day, which centers around recognizing and honoring the health and well-being of Japanese girls, has been noted for decades for its display of hina ningyo doll figures, according to Xpat Nation. Per tradition, about 60 dolls are carefully arranged and sit atop several platforms in families' homes. The platforms are covered in red cloth, and each doll stands at about two feet tall. The dolls are meant to wish daughters and girls good health and happiness.
An "Emperor" and an "Empress" doll typically sit on the top platform, but the recent debut of the new Trump hina will likely leave Girls Day participants curious as to where to seat him.
Shoppers were reportedly dismayed by the addition the Trump figure, but Kyugetsu senior vice president Hisatoshi Yokoyama maintained the doll was made to symbolize the hope of what Trump might accomplish in office.
"There is talk about his derogatory comments about women, but we made this in the hope that he will make the world better," Yokoyama told Reuters.
However, at least one mother expressed her discomfort around those comments. Trump saw backlash last year for making remarks about grabbing women by their genitals and for commenting on female participants' "sexual appeal" on his show "The Apprentice," among other public statements.
"I think his sexist remarks in public give an impression that we women are looked down upon," Saori Baba, a mother with a young daughter, also told the news outlet. "I hope he won't make such comments anymore in public."
The Trump doll was just one of several new releases for Girls Day 2017. Yuriko Koike, the governor of Tokyo; Sara Takanashi, a Japanese ski jumper; and Kei Nishikori, a pro tennis player, were also featured, Hochi reported.
The dolls will be on display through early February at the Kygetsu company headquarters.
© Copyright IBTimes 2023. All rights reserved.