What Happened To Blaine Gabbert? Colin Kaepernick To Replace San Francisco 49ers Starting Quarterback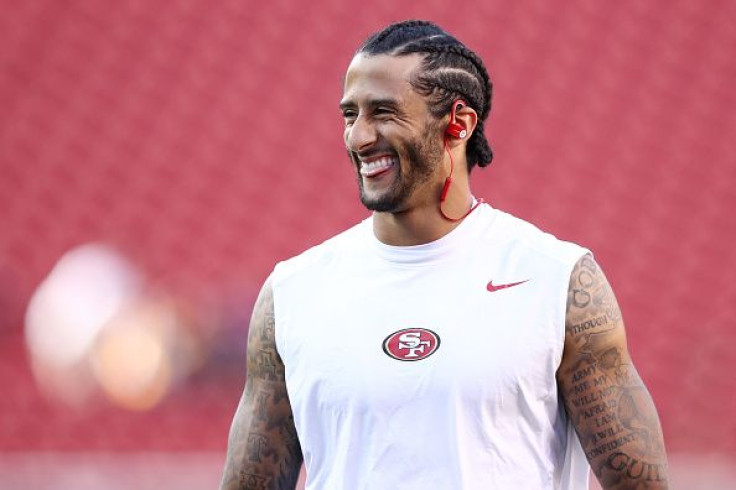 Colin Kaepernick might not stand for the national anthem, but he will take the field for the first time since Week 8 of the 2015 NFL season. The contentious quarterback will start for the San Francisco 49ers when they hit the road to face the Buffalo Bills at Ralph Wilson Stadium on Sunday afternoon.
Kaepernick garnered national attention when he refused to stand for the national anthem to protest social injustice and police brutality. Since his stance, many other athletes have joined in the protest.
The move to replace Blaine Gabbert comes after the 49ers lost 33-21 to the Arizona Cardinals Thursday. The 49ers have languished this season and are in last place in the NFC West with a 1-4 record.
Kaepernick has nursed injuries in recent months and is reportedly dealing with shoulder fatigue. After Gabbert struggled to bolster the offense with just a 69.6 passer rating, 49ers head coach Chip Kelly announced that Kaepernick would make his first start this season.
"I think offensively, we need to be better and we need to just make a move. It's not Blaine's fault. I think it's just as a group, offensively, we need to be better in a lot of ways, so we're going to see what we can do to make a move here," Kelly said Thursday. "It's really one of the only maneuvers we can make based on our depth, where we are, and what we're doing."
Kaepernick's injuries woes were considered a key reason he was on the bench.
"He's capable to be the backup. But I don't think he's ready to go full-time. He's continuing to work on it. I think he's over [on the practice field working out] right now," Kelly said in September. "To get the full Kap for what you need, the potential that he has, he needs to continue to just work on the physical aspect of things."
Sunday will be Kaepernick's first start since Nov. 1, 2015. He has yet to issue a response on social media.
Follow me on Twitter @mariamzzarella
© Copyright IBTimes 2023. All rights reserved.