What Happened To Malaysia Airlines Flight MH370?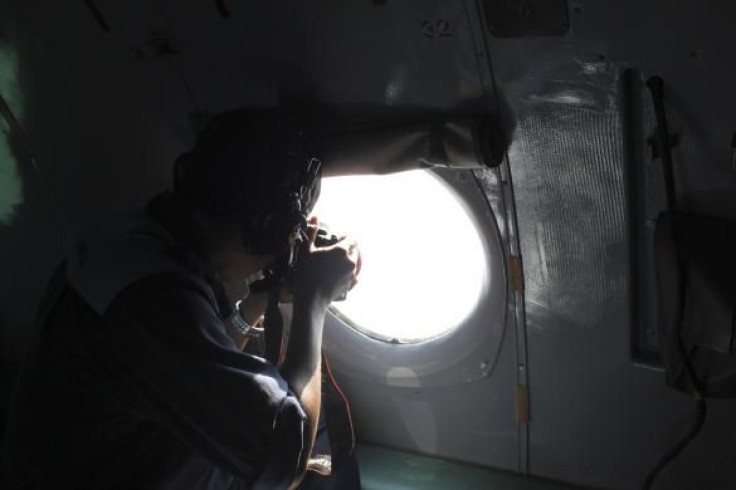 The search for the missing Malaysia Airlines flight that disappeared Saturday while en route from Kuala Lumpur to Beijing still has not produced results, but it is all but certain at this point that flight MH370 has crashed. The Boeing 777 carrying 227 passengers and 12 crew lost contact with air traffic control between Malaysia and Vietnam over the South China Sea early Saturday local time, and has not been seen or heard from since.
The Vietnamese Air Force published pictures of oil slicks on the water that it said were likely from the crashed plane. Malaysia Airlines has not confirmed that the airplane has crashed, nor have any of the nations involved in the search-and-rescue operations -- but the oil slicks are consistent with what a jetliner crashing into water would produce.
Speculation as to what might have brought down the plane is premature; a formal investigation has not even been opened yet. But there are some known factors that may help direct an inquiry.
First, the airplane involved and the airline flying it have excellent safety records.
Assuming that the plane has indeed gone down, this would be only the third accident in the entire lengthy career of the Boeing 777, which entered service in 1995. In 2008, a British Airways 777 crash-landed at London Heathrow airport after icing in the engines caused a sudden loss of power while on approach; no one was seriously hurt.
Last year, a 777 belonging to Korean carrier Asiana Airlines crashed on landing in San Francisco, killing three. The National Transportation Safety Board investigation of that accident is still pending, but it is known that the crew had failed to monitor airspeed and altitude properly and tried to gain height before the plane hit the seawall at the end of the runway.
Neither accident bears any similarity to the known circumstances of Malaysian 370, which disappeared at 35,000 feet and at the speed of 472 knots, when it was comfortably established at cruising altitude.
The airline said the captain was a very experienced pilot, a 33-year veteran of the company with almost 20,000 hours of flight time. (His first officer had logged 2,700 hours.) Malaysia Airlines has had only one fatal accident in decades; excluding a hijacking, it lost only a small Fokker 50 turboprop in 1995, with 34 lives. It's a major international airline with a modern fleet of more than 100 airplanes, as well as a member of Oneworld, an industry alliance headed by American Airlines. It's also one of the few airlines that operates the Airbus 380, the world's biggest passenger airplane.
What likely brought down the 777 "would have to be something catastrophic and unexpected," said Dave Powell, a retired United Airlines Boeing 777 captain who is now dean of the College of Aviation at Western Michigan University.
An in-flight breakup due to an explosion of any origin could have been the culprit, but Powell said the Triple Seven, as it's universally known by its crews, is a solid airplane, unlikely to experience disastrous mechanical events. "The people I know at Boeing think the 777 is the best airplane they ever built, better than even the 747," he said in a phone interview. "And you can talk about anything at this point -- clear air turbulence, terrorism, a malfunction. But everything on the 777 was the best I've ever dealt with."
The discovery that two people whose names appeared on the passenger list were in fact not on board, and had reported their passports stolen, lends some early credence to the theory that a bomb might have exploded. In previous cases of in-flight bomb explosions -- Pan Am 103 over Lockerbie, Scotland, in 1988; Air India 182 over the Atlantic in 1985; and UTA 772 in 1989 -- the airplanes had all disappeared from the sky without warning or a distress call.
An explosion could also be due to a fuel tank, as happened to TWA flight 800 in 1996, a crash initially attributed to possible terrorism before the investigation pointed to a spark igniting fuel vapors and causing an explosion that broke up the plane. In that case, there was no distress call either. But fuel tank design has come a long way since the late-1960s technology of the Boeing 747, and no 777 has ever exhibited any issues of that kind.
Fires on board, loss of engine power for various reasons, or instrument malfunctions have all caused crashes of big jetliners, but the sudden disappearance of MH370 with no radio contact makes those scenarios less likely. Pilot suicide has also been a cause of crashes, although rare, and any scenario of that kind would probably be evident if the flight-data recorder (or "black box") and cockpit voice recorder are found.
Given the relatively shallow depth of the Gulf of Thailand, the possible crash area, both devices should be located fairly quickly -- a key difference between Malaysia 370 and the similarly baffling Air France 447, which went down in 2009 in the middle of the Atlantic. It took two years to find the recorders on the ocean floor 4,000 meters (13,000 feet) down. The investigation found pilots had reacted improperly to a stall, causing the Airbus 330 to irrecoverably lose control.
At this early stage, there is no indication that the pilots did anything untoward, as was the case in the botched Asiana Airlines landing in San Francisco. "I was chief pilot for United in San Francisco with the 777, I've flown that approach hundreds of times," Powell said, "and that was poor airmanship. But this? Boy, this is just unconscionable."
© Copyright IBTimes 2023. All rights reserved.