What Is ISIS, The Syria-Based Jihadi Group That Took Over Mosul?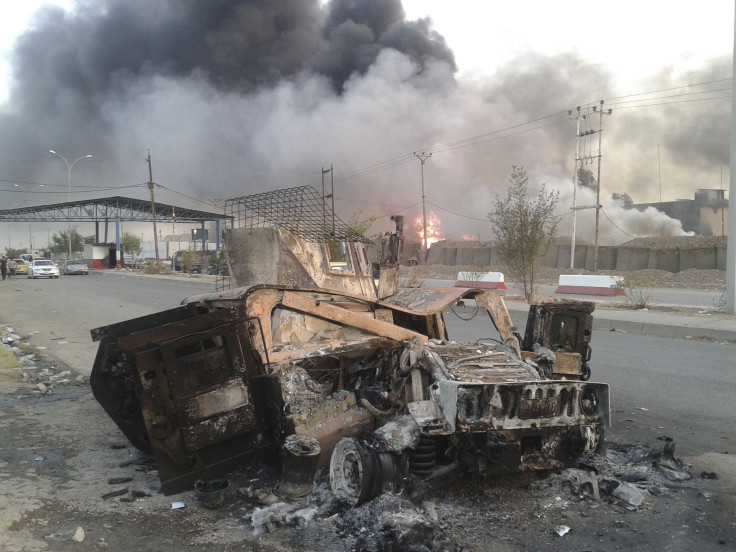 For more than a year, the U.S. administration has said it would not send anti-aircraft weapons to Syria rebels because it feared they would fall into the hands of extremist groups like the Islamic State of Iraq and Syria, which claims it has ties to al-Qaeda. But the administration could have more to worry about now after the group took over Mosul, Iraq's second-largest city, Tuesday, bridging the gap between extremist-held ground in Syria and Iraq and solidifying its control over an area that spans from Aleppo all the way to Fallujah.
The takeover of Mosul was the biggest victory for the group in years as it gained control over not only a large city, but a strategic one, too. Austin Long, a professor at Columbia University and a former consultant on Iraq for RAND Corporation, said gaining control of Mosul would help ISIS coordinate its activities between the two countries.
Over the last 24 hours, Sunni Muslim ISIS has has occupied the Sunni-dominated Nineveh province in northwestern Iraq and has begun to take over parts of neighboring Salahuddin province, including Saddam Hussein's hometown of Tikrit. Reports Wednesday from various media outlets said ISIS militiamen were headed in the direction of Baghdad.
Judith Yaphe, a professor at George Washington University's Elliot School, said ISIS has been linked to attacks that seem to be getting closer and closer to the capital -- a scenario that rarely occurred during the U.S. occupation that ended in 2010.
Denise Natali, a senior research fellow at the National Defense University in Washington, said ISIS is most likely receiving support from Iraqi Sunni communities alienated by the Shi'a-dominated Baghdad government. Intense fighting in Iraq over the last five days and the rapid ISIS advance have raised new concerns about a group that experts say we still do not fully understand.
Little was known about ISIS before the beginning of the war in Syria three years ago, and the details about how the group functions across countries and where it gets its weapons and money remain unclear. According to Yaphe, one thing is known about ISIS: their goal, which is to claim territory and establish an Islamic caliphate, a theocracy. The takeover of Mosul brings the group one big step forward in reaching that goal.
ISIS gained popularity initially among Sunnis in revolt against President Bashar Assad's forces in Syria. It gained momentum slowly at first, competing for influence with another jihadi group, Jabhat al-Nusra. While the group vied for power in Syria, the discussion about expanding its reach in Iraq faded, until it resurfaced in Mosul.
Although ISIS has pledged allegiance to al-Qaeda, the relationship between the two groups is murky. No one knows exactly what ties currently exist. Links between the two groups date back to 2003, when Abu Musab al-Zarqawi, then leader of the group, swore an oath of allegiance to Osama bin Laden. U.S. forces killed the Jordanian-born al-Zarqawi in 2006. Since 2010 the Iraqi jihadist Abu Bakr al-Baghdadi has led ISIS.
A statement attributed to al-Qaeda, published by the Fajr Media Center in February, announced that al-Qaeda has no official ties to ISIS. Al-Qaeda top leader Ayman al-Zawahiri said the rival al-Nusra was the group's official branch in Syria.
If ISIS is connected to Al-Qaeda in a significant way, Natali said, it would have access to its expansive financial network.
It was reported Wednesday that ISIS forces looted 500 billion Iraqi dinars, the equivalent of $429 million, from Mosul's central bank, indicating that they may not have access to a significant amount of money outside of Iraq.
At a press conference in Washington on Wednesday, Syrian opposition commanders, who spoke via Skype from Syria, said the extremist group inside Syria is connected to the events on the ground in Iraq.
"We have warned right from the beginning about the spread of extremism and we knew full well that we would have to fight two fronts -- the Assad regime and extremism," said Col. Afif Suleiman, head of the Free Syrian Army in Idlib province. "Now you see what is happening in Iraq. The Iraqi regime was unable to push back the extremists. We with our limited resources have been able to kick them out of our areas but we cannot kick them out completely unless we are provided the necessary tools."
Suleiman said some of the stolen money, along with the heavy weaponry taken over by ISIS in Mosul, was transported across the border to Syria to Deir Ezzor Tuesday, and that the opposition was concerned it could launch a stronger, more organized offensive against the Free Syrian Army.
Mustafa Berro, deputy commander of the opposition group designated to fight ISIS in Syria, said some of the ISIS fighters who launched the attacks in Mosul and the surrounding originated in Deir Ezzor and Al-Raqqa in northeastern Syria.
"We are deeply concerned they might return," Berro said.
Berro said the opposition maintains that Assad, with the help of Iran, is aiding extremist groups in the country to fight the Free Syrian Army, claiming that the military does not bombard areas where ISIS forces are known to be.
© Copyright IBTimes 2022. All rights reserved.
FOLLOW MORE IBT NEWS ON THE BELOW CHANNELS