ISIS Seizes Control Of Mosul, Iraq's Second-Largest City, Forcing 150,000 To Flee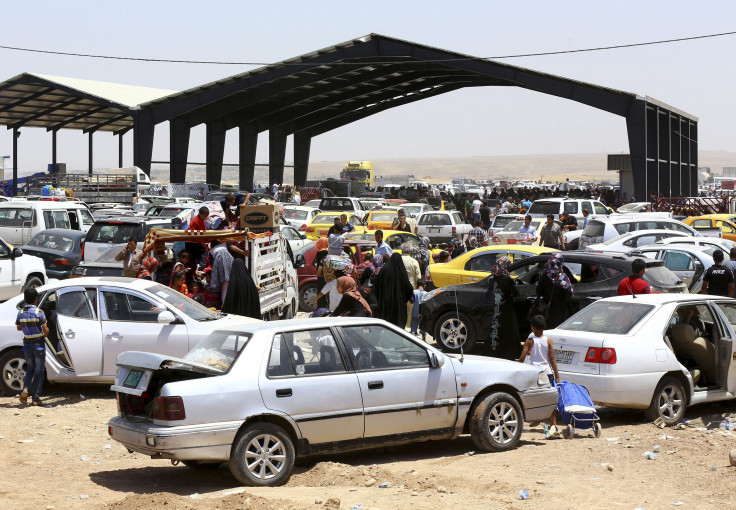 After four days of intense fighting, the Islamic State of Iraq and Syria (ISIS), a Sunni militant group, took over the second-largest city in Iraq, Mosul. In the face of the radical Muslim militants, the military abandoned its posts and left weapons and equipment behind, a victory that experts say will strengthen not only the group's influence in the country, but in the entire region.
The takeover of Mosul, according to experts, is a result of the conflict in Syria, and is an indication that the group is moving northward to expand its reach. Many people living in Iraqi Sunni communities, angry with the Shia-led government, have joined ISIS. Sunni Syrians are fighting a similar battle; many of them have joined ISIS forces there to fight President Bashar Assad, who is an Alawite -- an offshoot of Shia Islam.
Expanding from their stronghold in nearby Syria, ISIS fighters now control a key Iraqi city. "The goal is to control territory. If you link [the occupation of Mosul] together you have an enclave, you have the beginning of a new emirate," Judith Yaphe, a professor at George Washington University's Elliot School, said. "If they are able to operate with impunity or very little fear, they will keep on moving and nibbling away."
The occupation of Mosul, which forced hundreds of thousands of people to flee, benefits ISIS operations in Iraq because it more easily allows for the flow of fighters and resources across the border with Syria, which has established itself as a prime destination for international jihad fighters.
"There is a definite connection between what is going on in Fallujah and Mosul and what is going on in Syria," Austin Long, a professor at Columbia University and a former consultant on Iraq for RAND Corporation, said. "Syria is a huge front for international jihad. They have leverage in terms of recruiting assets in Syria. It gives them an additional way to mobilize folks."
The takeover of Mosul and its connection to the Syrian conflict is a major blow to Iraqi Prime Minister Nouri Al-Maliki's efforts to fight the insurgents.
Since November 2012, more than 15,000 civilians have been killed in the country, according to the Iraq Body Count website, as a result of increasingly violent clashes between government forces and ISIS. According to U.N. data, 8,868 people were killed in violent incidents in 2013 alone, Iraq's highest annual death toll in five years.
During his campaign, Maliki used the slogan "Together, we defeat terrorism," to try and assure people that he will take "blood for blood" to beat ISIS. He seemed to re-commit to that slogan when he announced on state television Tuesday he would give weapons to any Iraqi willing to fight ISIS. He said the cabinet has "created a special crisis cell to follow up on the process of volunteering and equipping and arming."
The government is resorting to calling for volunteers because in many ways, experts say, the military is not equipped to fight the extremist group. The Iraqi military has yet to remove ISIS from Anbar Province, a direct indication that it lacks the ability and resources to fight the extremists, Denise Natali, a senior research fellow at the National Defense University in Washington, said.
Lockheed Martin Corp. (NYSE:LMT) announced last week that it would soon ship the first of 36 F-16 jets Iraq ordered, and Natali said these could potentially help the army better target the insurgents from the sky.
But even with new weaponry, the Iraqi army still faces the debilitating problem of cohesion.
Long said the government is dealing with an army that is increasingly uninterested in fighting.
"I think the fundamental problem is lack of willingness to fight," Long said. "A lot of the leadership positions in the army are determined by a combination of politics and money. If there is that much corruption, why would soldiers fight that hard?"
In many ways, Long said, the Iraqi army relied heavily on the U.S. to help them repel militants associated with al-Qaeda. After American troops withdrew in December 2010, the army no longer had the capacity to fight extremists.
"The U.S. provided a lot of the intelligence for joint operations. The hope was that the Iraqis could replace U.S. technological intelligence with better human intelligence, and I don't think that has panned out at all. They have good intelligence for the Shia community, but the Sunni community isn't going to tell them anything."
© Copyright IBTimes 2023. All rights reserved.