What Makes Melbourne The Most 'Liveable' City In The World?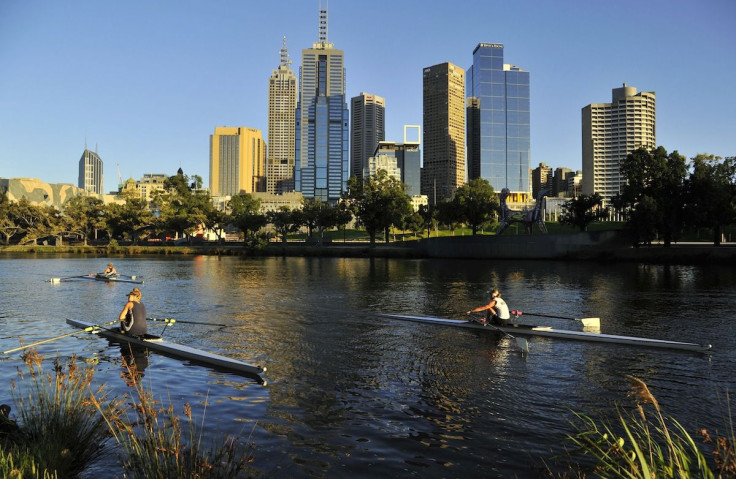 Patrick Kelly left the suburbs of Cork three years ago in search of work after the property bubble in Ireland burst and construction jobs dried up. He soon found himself on the far side of the globe in Melbourne, Australia, where he built a career as a carpenter, earned a good wage and began anew in the city's burgeoning Kensington neighborhood.
"Melbourne ticked a lot of boxes for how a city should be planned and run," he said, reflecting on his journey to the antipodes. "It's safe and crime is relatively low. It has a good climate, a lot of public parklands and public facilities like playgrounds and sports fields. The city has good schools, hospitals, public healthcare, and the infrastructure -- from the international airport to the metro trains, trams and busses -- is all well maintained."
Kelly has a few gripes: The housing is expensive and creating urban sprawl, entertainment is dear and public transport can be tough in the outskirts. But all in all, he said he spends a lot more time outdoors, exercising and socializing at a greater variety of places than back in Ireland, and clocks in a lot less time in his car.
As a Brooklyn transplant living in the Land Down Under, I tend to agree with Kelly's assessment. People often say Melbourne is "the New York of Australia," but the differences between the two become apparent the moment you catch a taxi out of Tullamarine Airport.
My ride on a recent trip to the Pullman Albert Park hotel on the far side of Melbourne's central business district, for example, took a breezy 24 minutes. The journey from my old home in Brooklyn's Park Slope neighborhood to John F. Kennedy International Airport, by comparison, is 4.3 miles (7 kilometers) shorter, but frustratingly longer in practice due to the traffic.
Melbourne and New York indeed have many similarities. Both are the cultural capitals of their respective countries, both are major sports cities and are both are cosmopolitan with residents hailing from all corners of the globe. But some of the differences (other than the size and scale) are subtler to the first time visitor.
As Kelly noted, Melbourne has an exceptionally low murder rate (2.7 per 100,000 people). In New York, it's 6.4 per 100,000 people.
Following that thread: The threat of terrorism in Melbourne is much lower than in New York, the amount of green space is much higher (it hopes to be carbon neutral by 2020), and access to affordable public heath care and schooling far and away blows New York (and any U.S. city for that matter) out of the water.
I use New York City as a point of comparison because that's exactly what the Economist Intelligence Unit does on its annual ranking of the world's "most liveable cities." An independent forecasting advisory business within the Economist Group, EIU has crowned Melbourne the most liveable city on the planet for three years running. The global benchmark, New York City doesn't even crack the top 50.
So what is it that makes Melbourne so "liveable"? And, more importantly, just what exactly is "livability" in the first place? For some answers, I've turned to Jon Copestake, lead author of the EIU reports. He's the first to admit that liveability isn't exactly an easy word to define.
"Essentially, we try and look at what cities present the fewest challenges to your life -- or what is the least challenging place to be in year to year. But -- and this is something that's important to differentiate -- the most liveable city isn't necessarily the best city in the world."
If you asked 100 different people to name their favorite city, you could very well get 100 different answers, Copestake said, and the particulars of what makes each city great are extremely hard to measure and not necessarily compatible with what make them liveable. While young people may prefer great nightlife, for instance, older folks may favor a city with more green spaces and quiet areas.
"It's hard to marry those two ideas, so we try and look at something that's a bit more tangible," he explained.
Few realize that EIU's Liveability Ranking and Overview -- like Mercer's former Quality of Living Survey -- was actually created as a barometer for employers assigning hardship allowances as part of expatriate relocation packages. It was never intended to measure the quality of urban life from a permanent resident's perspective, nor to become a benchmark for a city's dynamism. But what started off as a "hardship survey" quickly morphed into something else after top-ranking cities began using the research as a tool to market themselves.
"Governments find it useful to have a broad benchmark of how their city lies in relation to others," Copestake said. "It gives them some sense of themselves and can also give them reasons to see how they are perceived and find ways to improve to counter those perceptions if they need to."
EIU paints a picture of the world's 140 major cities using a broad palate of categories like stability, healthcare, education, infrastructure, culture and environment. By these parameters, English-speaking Commonwealth countries overwhelmingly dominate the lists, comprising eight of the top 10 in 2013.
Critics argue that the London-based organization is overly Anglocentric in its view of the world. The New York Times, for one, lambasted the liveability report in a 2010 op-ed, saying, "The Economist clearly equates liveability with speaking English." Copestake counters simply that you tend to find higher liveability in more-developed markets.
There are, to be fair, plenty of non-English speaking metropolises within EIU's top tier of livability, starting with Vienna, Austria at No. 2 and running the gamut all the way down to Santiago, Chile at No. 63 -- though Australia and Canada disproportionately fill the top slots.
These two countries share several attributes (beyond speaking English) that Copestake said make them exceptionally "liveable." They're both large and wealthy, have low population density and boast midsize cities -- the perfect equation for an enviable standard of living, according to EIU. This formula apparently breeds cities with low crime rates, functional infrastructure and plenty of recreational activities.
Big cities, by comparison, tend to be the victims of their own success. Places like New York (No. 56), London (No. 55), Paris (No. 16) or Tokyo (No. 18), are renown the world over for their glitz and glam and attract plenty of people, but in turn, tend to have more crime, congestion and transport problems, as well as a lack of stability due to the threat of terrorism.
Large American cities, in particular, fall down the rankings against their seemingly similar Canadian counterparts because of high crime levels and a lack of affordable public healthcare. Second and third-tier American cities, meanwhile, tend to lack the culture or diversity of activities on offer in similarly sized European cities, sending them tumbling down the rakings, too.
That's not to say a city's size has anything to do with cultural availability. Copestake pointed to several Chinese megacities as proof that large population density doesn't necessarily equate with greater access to culture. Copestake also used China as an example of how rapid development doesn't always lead to higher liveability.
Worldwide, EIU believes liveability has slipped by 0.6 percent over the past five years, thanks to a 1.3 percent dip in stability and safety. Unrest in Syria put Damascus dead last on the most recent list, while a variety of Arab Spring and austerity protests dragged the Middle East and Europe down.
"Liveability often seems static on a year-to-year basis. But looking at movement over a longer period we can see some significant trends emerging," Copestake noted in the latest report. "While the threat of terror had a defining influence on liveability in the last decade, we can clearly see that civil unrest has already had a significant impact on liveability in this decade."
Of the 86 nations whose results have changed over the past five years, just 30 have seen improvements, led by Bogotá, Colombia; Harare, Zimbabwe; Dubai, UAE; Algiers, Algeria; and Kuwait City, Kuwait. The rest have seen dramatic declines, including Tripoli, Libya; Cairo, Egypt; Sofia, Bulgaria; Amman, Jordan; and Panama City, Panama.
How much longer Melbourne can hold onto its spot on top of the pack remains to be seen. It knocked Vancouver off the throne on which it had sat for a decade three years ago because of congestion brought about by new construction projects. With those projects nearing completion, Vancouver may once again give Melbourne a run for its liveability in 2014.
© Copyright IBTimes 2023. All rights reserved.