What Trump Thinks Of Queen Elizabeth II After Meeting Monarch
President Donald Trump met the longest living monarch Queen Elizabeth II on Friday and the president thinks she is "terrific" and "beautiful." In a new interview from his trip to the U.K., Trump opened up about the 92-year-old after he was criticized for breaking royal protocol.
"The Queen is terrific. She is so sharp, so wise, so beautiful. Up close, you see she's so beautiful. She's a very special person… when I say beautiful — inside and out. That is a beautiful woman," Trump told Piers Morgan in an interview with the Daily Mail. He also mused on the various names for her realms, saying: "You have different names — you can say 'England,' you can say 'UK,' You can say 'United Kingdom' so many different — you know you have, you have so many different names — Great Britain... Which one do you prefer? Great Britain? You understand what I'm saying?"
At this point, Morgan pointed out Trump's mistake of confusing Great Britain and the U.K. to be the same. Trump replied: "Right, yeah. You know I know but a lot of people don't know that. But you have lots of different names."
Great Britain is made up of England, Scotland and Wales and the United Kingdom of the three countries plus Northern Ireland.
Trump's interview with Morgan that took place aboard Air Force One will air on Good Morning Britain on Monday.
During the interview, Trump said his mother, Mary Anne Trump, who died in 2000 at the age of 88, was a "tremendous fan" of the queen.
"I was walking up and I was saying [to Melania]: Can you imagine my mother seeing this scene? Windsor. Windsor Castle. And it was beautiful, it was really beautiful but the Queen is terrific... And the way she's conducted herself for so many years. And she's got a lot of years left," Trump said.
When Morgan asked if the queen had discussed Brexit with the president, he said: "I did. She said it's a very — and she's right — it's a very complex problem, I think nobody had any idea how complex that was going to be. Everyone thought it was going to be, oh it's simple, we join or don't join, or let's see what happens."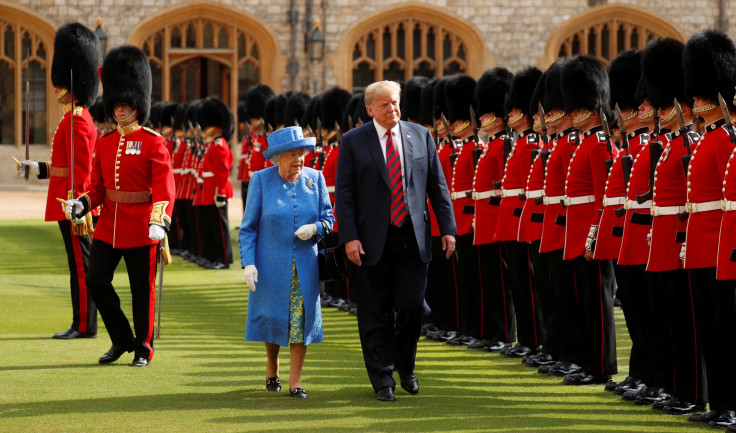 Over the weekend, Trump was slammed by Twitter users after a video surfaced of the president blocking the queen. The clip shows the awkward moment when Trump completely eclipses the queen from view for a moment.
Twitter users, including Alyssa Milano, called out the break in etiquette.
"This is disgraceful, @realDonaldTrump," wrote the actress. "She's the queen and she's 92 years old! You're incapable of acting like a human being. You're incapable of being a leader."
While Trump's U.K. visit had been controversial from the start with several protests being conducted upon his arrival, there were also reports claiming Prince Charles and Prince William reportedly "snubbed" the U.S. president by not meeting him at Windsor Castle.
"This business of Prince Charles and Prince William not being there for the Trump visit was a snub," a source told U.K.'s the Times, adding they "simply refused" to attend.
"It's a very, very unusual thing for the queen to be there on her own. Usually she is accompanied by somebody," the source added.
© Copyright IBTimes 2023. All rights reserved.