What Will Trump Do About Middle East? Jordan's King Abdullah To Meet Congress, New Administration During US Visit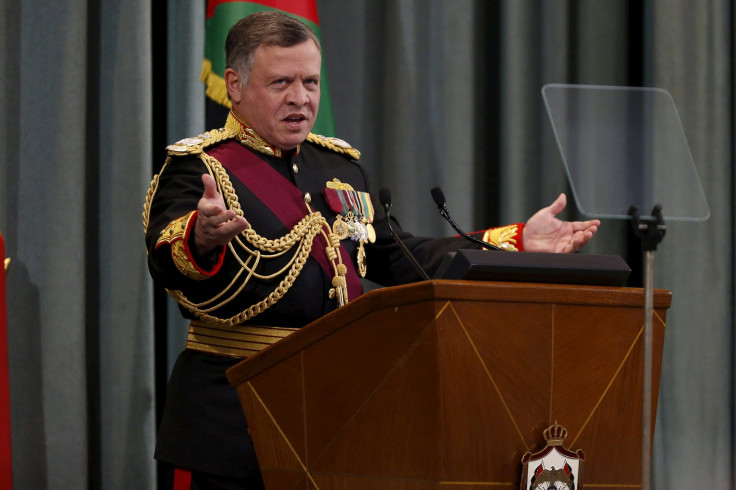 Jordan's King Abdullah II will begin his U.S. visit Monday, the country's Washington embassy said Friday. Abdullah will be the first Arab leader to meet with President Donald Trump's administration.
"HM King Abdullah II will start a working visit to U.S. on Monday during which he will meet w/new administration & Congress," Dana Zureikat Daoud, the director of Jordan Information Bureau at the Jordanian embassy, tweeted Thursday.
The embassy did not specify if a meeting with Trump is on the table.
Abdullah's trip to the U.S. follows his trip to Russia and meeting with President Vladimir Putin. In Russia, Abdullah praised Putin's efforts in finding a resolution to the Syrian crisis, adding that Moscow plays a "crucial role in resolving this [Syrian] and many other regional issues."
"We do fully support the settlement process launched in Astana and appreciate Russia's role and its involvement in this process," the king reportedly said Wednesday, adding that he hoped "the Syrians will have a common inclusive future."
In the event that Abdullah and Trump meet, the two are likely to discuss issues related to immigration and terrorism. Jordan — part of the U.S.-led coalition fighting against the Islamic State group, also called ISIS — has witnessed an influx of refugees from war-torn Syria. Last December 2016, ISIS claimed responsibility for an attack on Jordanian soil that left 10 dead.
The king's trip to the U.S. comes at a time when Trump is expected to sign an executive order halting immigration from Syria, Iraq, Iran, Libya, Somalia, Sudan and Yemen till his administration develops a tougher vetting process to screen terrorists attempting to enter the country. This order would also stall the refugee resettlement process. Most refugees the United Nations Refugee Agency refers to the U.S. reportedly come from Jordan, Turkey, Lebanon, Egypt and Iraq.
© Copyright IBTimes 2022. All rights reserved.
FOLLOW MORE IBT NEWS ON THE BELOW CHANNELS