What's Happening In Palmyra? Syrian Musicians Celebrate Liberation From Islamic State Group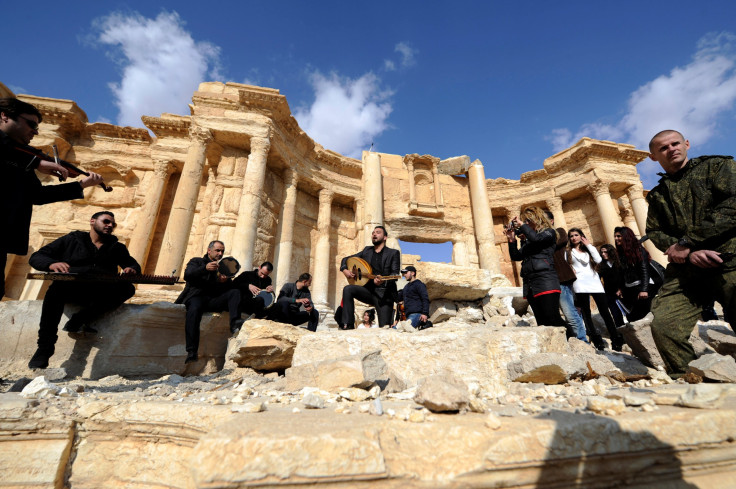 Syrian musicians have been celebrating the liberation of the ancient Syrian city of Palmyra, a UNESCO world heritage site, from the Islamic State Group or ISIS, reports said Monday. Palmyra was attacked by ISIS forces on Thursday and a major Roman theater was destroyed in the city. The Syrian army with the help of its allies recovered the city second time this year after a two month battle with the forces of ISIS.
"With backing from the Syrian and Russian air forces, units of our armed forces recaptured the city of Palmyra, in cooperation with the allies," the Syrian military said in a statement.
After the attack on Thursday, Syrian musicians said that these incidents would not stop them from coming to the ruins of the Roman theater to sing and play music.
"A little destruction won't stop us from coming here to play and sing on this stage, despite what happened to it. I want to play music and sing everywhere that has seen the expulsion of (Islamic State group), which hates singing and banned playing instruments," Angel Dayoub, a 15-year-old Syrian musician said, Telesurtv.net reported. Musicians of all ages accompanied Dayoub with the oud, which is the Arab pear-shaped stringed instrument, violins and tambourines. Dayoub performed Lebanese diva Fairuz's famous song "We're coming back."
"We're singing 'We're coming back' because we will come back even stronger than before to rebuild Syria. Everyone will rebuild in their own way. We want to rebuild it with music and singing," she added.
A press tour was organized by the Syrian army this weekend where numerous young musicians performed at the theater in front of an audience comprising of about dozens of Syrian and Russian soldiers. While the musicians played their music, explosions could still be heard nearby in the north and east of Palmyra, as the Syrian army was re-capturing the city from ISIS forces.
"Daesh (ISIS) wanted to ban us from the theater, to ban us from singing, but I want to challenge it, to beat it. Daesh is darkness, but music is light," Maysaa al-Nuqari , an oud player said, Telesurtv.net reported.
Palmyra has been home to several well-preserved classical monuments in the Middle East, temples and extensively decorated tombs, which have been a famous tourist spot attracting over 150,000 tourists in a year, prior to the break out of the Syrian conflict.
Wael al-Hafyan, head of engineering in the Homs province's antique department said that it was a mammoth task to assess the amount of destruction that has been done to these structures.
"All of Palmyra is left. Palmyra's history has remained. A few scratches cannot distort its beauty. The enormity of what Daesh did here, all of its crimes, doesn't even amount to a scratch on this beautiful, glorious face that is Palmyra," Hafyan said.
© Copyright IBTimes 2023. All rights reserved.
FOLLOW MORE IBT NEWS ON THE BELOW CHANNELS