What's Happening In Palmyra? ISIS Regains 'Full Control' Of Ancient City After Syrian Troops Pull Out, Militants Say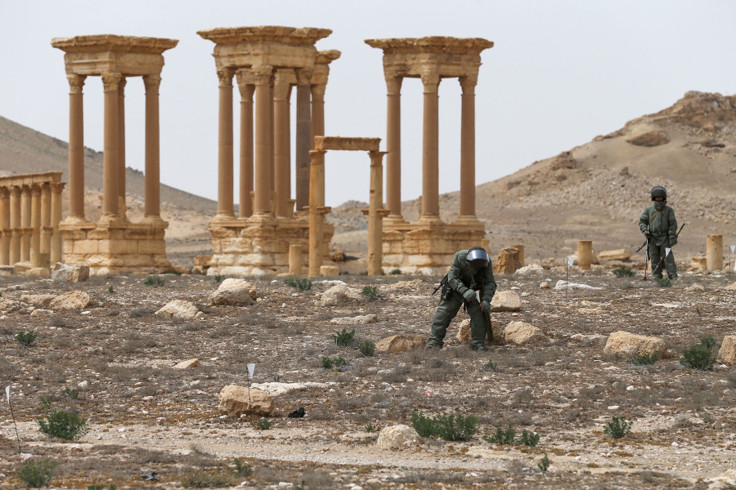 UPDATE: 7:11 a.m. EST – Islamic State group fighters retook Palmyra on Sunday after Russian-backed Syrian armed forces pulled out from the ancient city, the Syrian Observatory for Human Rights said.
"Despite the ongoing air raids, IS retook all of Palmyra after the Syrian army withdrew south of the city," Rami Abdel Rahman, the head of the monitor group, reportedly said.
The ISIS-linked Amaq news agency also reported that the militant group regained "full control" of the city Sunday, according to Agence France-Presse.
Original story:
Russian airstrikes forced the fighters of the Islamic State group to retreat to the outskirts of Palmyra on Sunday, a day after the extremist group re-entered the ancient city in eastern Syria. ISIS held the Unesco World Heritage site of Palmyra from May 2015 until March this year when it was forced out of the city.
According to the Russian ministry, Russian jets carried out 64 strikes during the operation, killing more than 300 ISIS fighters.
"Over the past night, Syrian government troops with active support of the Russian air force thwarted all terrorist attacks on Palmyra. The attacking militants actively used car bombs with suicide bombers, armoured vehicles and rocket artillery," the ministry reportedly said in a statement.
The British-based Syrian Observatory for Human Rights said that ISIS had gained control of some oil and gas fields around the city after starting its advancement toward Palmyra on Thursday.
During its previous occupation of Palmyra, ISIS fighters beheaded the archeological director and destroyed a number of monuments including two 2,000-year-old temples, an arch and funerary towers.
The attack on Palmyra came as the Russian-backed government forces of Syrian President Bashar Assad closed in on the remaining rebel-held areas of Aleppo. The Syrian government resumed fighting in certain areas of besieged Aleppo after a brief humanitarian pause, rebel groups said Friday.
Russia imposed a humanitarian ceasefire on Aleppo to allow civilians to flee the city. The Russian military said that as of Friday morning, nearly 8,000 civilians, including 3,000 children, fled the city, which was once a large financial and industrial center.
© Copyright IBTimes 2023. All rights reserved.