What's Johnny Depp Doing With A Communist Newspaper?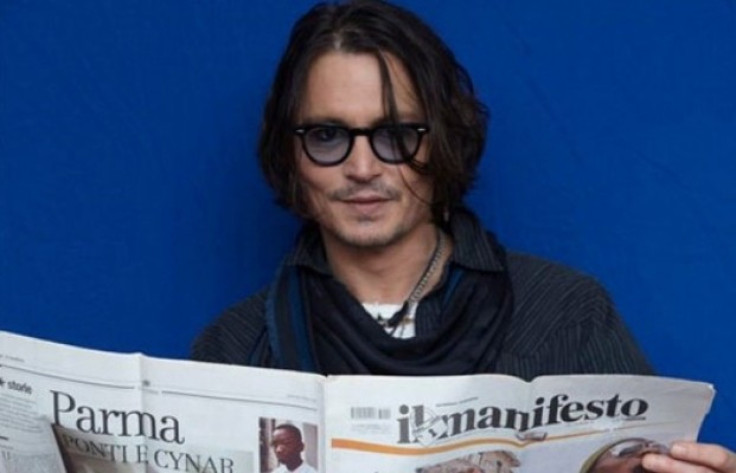 A small, far-left-wing daily newspaper in Rome is fighting for its life, faced with dwindling sales and rising costs. This would not be major news, except for one small thing: the newspaper, virtually unknown outside of Italy, has snagged one of Hollywood's biggest superstars as its testimonial. The front page of the paper on Thursday showed Johnny Depp reading Il Manifesto, which calls itself a Communist newspaper -- something that the two words clearly displayed above the masthead, "quotidiano comunista", make abundantly clear even to non-Italian speakers.
Italian media report that Depp was in Rome to promote his latest movie, The Rum Diary, when he was asked to do a quick photo shoot in support of the newspaper's campaign to survive by drumming up new subscriptions.
Depp isn't alone among American actors in lending his support to the beleaguered paper. Susan Sarandon, Jon Hamm and Dustin Hoffman have all appeared in recent months on the front page, pictured reading Il Manifesto.
Despite its small size, with a print run of around 70,000, Il Manifesto is considered one of Italy's quality newspapers. Famous for its provocative headlines and unorthodox opinions -- it was founded by a collective of journalists expelled from the Italian Communist Party in 1969 for being too critical of the Soviet Union -- it has long been favored by intellectuals and young people, with a devoted readership among university students. But it has never been a money-making enterprise, and survived in part thanks to the public subsidies that Italy pays to newspapers and other media. Now those funds are dwindling as the government cuts spending, and Il Manifesto has been in bankruptcy since February.
Italy used to have the Western world's biggest Communist party: the Partito Comunista Italiano, while never taking part in the country's many coalition governments, routinely polled above 30 percent in the late 1970s. It dissolved in 1991 after the Berlin Wall collapsed. Its more mainstream component morphed into the center-left Partito Democratico, but a smaller Communist Refoundation party survives to this day: it won a little over 3 percent of the vote in the 2008 election for parliament, failing to elect any representatives.
© Copyright IBTimes 2023. All rights reserved.