When Lionel Messi Talks, Even Argentina's President Goes Quiet: Emi Martinez
KEY POINTS
Lionel Messi won his first senior international trophy last year
Argentina defeated Brazil 1-0 in the Copa America final
Messi has netted 86 goals for Argentina so far
Argentina goalkeeper Emiliano Martinez says Lionel Messi has so much influence on everyone in his country that even the president has to stay quiet and listen when he speaks.
Martinez's comments came in reference to Messi's speech on the day of Argentina's Copa America triumph last year. Angel Di Maria scored the winner as Argentina defeated Brazil 1-0 in the final, giving Messi his maiden senior international trophy for his country.
Recollecting that day when Messi led the team from the front with a rallying cry, Martinez admitted that it gave everyone involved goosebumps.
"He made a speech saying this was going to be his last one and that he was going to give it his all. I was like, little shivers, to Messi talking. Everyone shuts up. They're all like that, whoever it is: manager, President of Argentina, whoever is there. They just shut up," Martinez told Prime Video, according to Goal.com.
Argentina recently thumped Italy 3-0 in the Finalissima, which was the third edition of the CONMEBOL–UEFA Cup of Champions, an intercontinental soccer meeting between the winners of South American and European championships.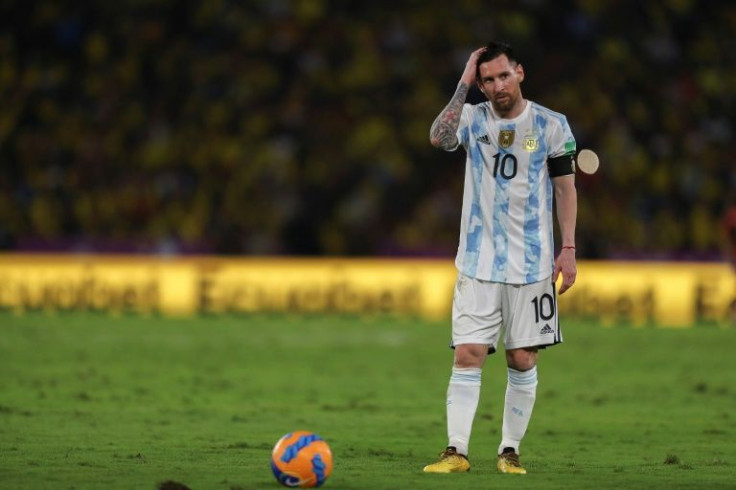 Messi produced a remarkable performance in Argentina's victory at London's Wembley Stadium as he was involved in two out of three goals, assisting both. He was named the Player of the Match as he lifted his second trophy with his country.
The 34-year-old forward created the opening goal for Lautaro Martínez. He rolled past Giovanni Di Lorenzo to set up the goal for the Inter Milan forward. Messi then assisted a late goal from second-half substitute Paulo Dybala.
After a quiet run in his maiden season with Paris Saint-Germain (PSG), Messi looked hungrier than ever in the Blue and White shirt at Wembley, sending a warning to rival nations ahead of the 2022 FIFA World Cup, which is scheduled to take place later this year in Qatar.
In 162 competitive appearances for Argentina, Messi now has 86 goals to his name and 51 assists.
© Copyright IBTimes 2023. All rights reserved.