Where Is Colin Kaepernick? Why San Francisco 49ers Quarterback Isn't Starting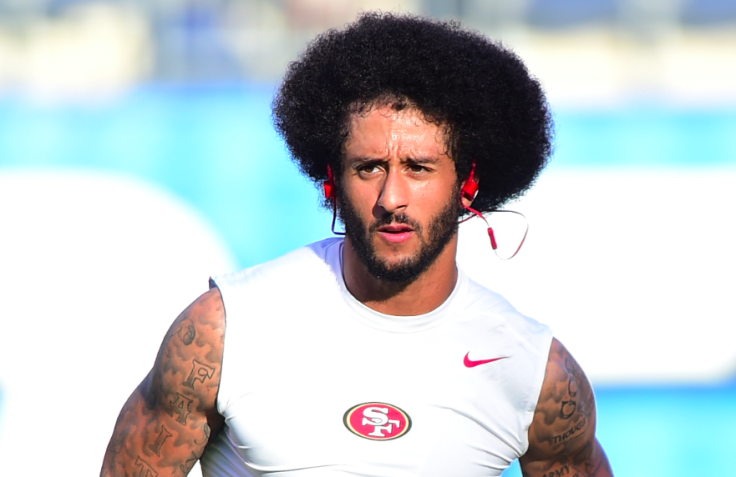 Colin Kaepernick has arguably been the most talked about NFL player since his national anthem protest began, but what some casual football fans might not know is that while the San Francisco 49ers quarterback takes a knee during the national anthem, he will continue to sit while his teammates take the field.
Blaine Gabbert was named the starting quarterback, and head coach Chip Kelly's decision had nothing to do with Kaepernick's protest. Gabbert had won the job in November, long before Kaepernick refused to stand for the "Star Spangled Banner."
Both quarterbacks started eight games in 2015 for the 49ers, and neither posted particularly impressive numbers. However, Gabbert had a stronger quarterback rating and completed a higher percentage of passes. There were also encouraging signs in the preseason, with the former Jacksonville Jaguar starter taking a bolder leadership role than he did last season.
"I viewed it as I was the quarterback of this football team, and that's how you always have to approach day-in and day-out walking into this building," Gabbert told the San Jose Mercury News. "I just took it and ran with it. And here I am."
Kaepernick hasn't responded to Gabbert taking the starting job, with his main focus seemingly on addressing racial tensions in the U.S. In 2012, Kaepernick won the starting job after sitting on the bench as a rookie in 2011. In his first full season, the 49ers reached the Super Bowl.
The 28-year-old promised to donate thousands of dollars to his cause after purchases of his San Francisco jersey spiked. Kaepernick and his girlfriend, Hot 97 (WQHT, New York) host Nessa Diab, also donated $60,000 in backpacks to students in the South Bronx and Harlem last month.
The 49ers will take on the Los Angeles Rams at Levi's Stadium Monday at 10:20 p.m. EDT on ESPN.
Follow me on Twitter @mariamzzarella
© Copyright IBTimes 2023. All rights reserved.