'White Student Unions' Internet Hoax: Facebook Pages Welcoming Students Of European Descent Seek To Stir Racial Tensions?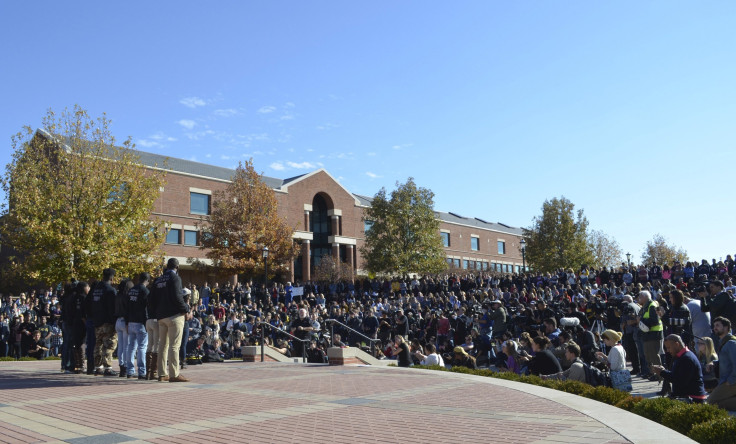 More than 30 Facebook pages purportedly representing "white student unions" at U.S. and Canadian campuses have surfaced in recent days, in what some are claiming is an Internet hoax designed to stoke already simmering racial tensions on college campuses, the Washington Post reported Tuesday. Users from popular message boards 4chan and 8chan, as well as the white supremacist website Daily Stormer, might be behind the recent surge in Facebook pages, which began on Nov. 20, the Daily Beast reported.
The users' goal appears to be to imitate activist groups such as the Black Lives Matter movement or the University of Missouri's Concerned Student 1950 group that have recently attracted media attention for protests against racial hostility. The Union of White NYU Students, for example, posted a series of controversy-provoking statements after it was created Friday, defending Rachel Dolezal's claims of being transracial and calling studies of white supremacy "dehumanizing."
"What does 'diversity' mean other than 'not white'? I'm not sure there is an answer to this. Is the word 'diversity' itself a discriminatory term against whites?" one of the group's posts read. A New York University spokesman later said in a statement that the purported student organization is not registered at the university, and its Facebook page was using the NYU logo illegally.
Thank you so much for 300 likes! It's heartening to know that there's so much support for students of European heritage working to promote our shared interests and culture!

Posted by Mizzou White Student Union on Sunday, 22 November 2015
A spreadsheet tracking the surge in white student union Facebook pages has so far found more than 30 organizations purporting to represent groups on campuses such as the University of Texas at Austin, the University of British Columbia, Rutgers University and Stanford University.
Many of the pages feature the same statement, welcoming "students of European descent" and "allies" to contribute to the organizations and defend all ethnic groups' rights to represent themselves.
"European-American students on college campuses face unique and immediate challenges that are ignored or even actively denied in today's cultural climate," screenshots of statements on pages for both the UC Berkeley White Student Union and the University of Cincinnati White Student Union read. "We unapologetically provide a safe space for white students to air their true feelings about the future of our nation."
Some university administrations have sought to shut the pages down, with Berkeley and Penn State University issuing statements claiming the pages had no affiliation with the schools.
© Copyright IBTimes 2023. All rights reserved.