Who Are The Oath Keepers? Armed Men In Ferguson Aim To Defend Constitution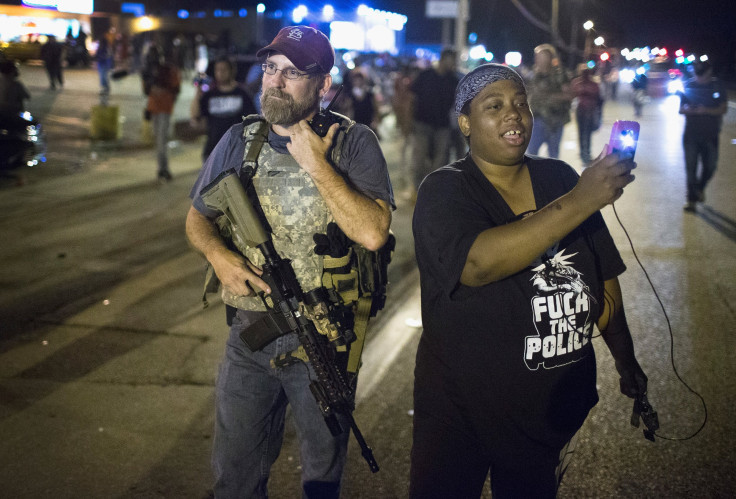 Weapons-carrying members of the Oath Keepers walked the streets of Ferguson, Missouri, on Tuesday as protests continued days after the one-year anniversary of the fatal shooting of unarmed black man Michael Brown. At least five white men on patrol attracted attention from passers-by and reporters, and St. Louis County Police Chief Jon Belmar told Reuters "their presence was both unnecessary and inflammatory."
The Oath Keepers reportedly said they were out in Ferguson to protect a representative from infowars.com, which later refuted the claim. If you've never heard of the militia before Tuesday, it's time to pay attention.
The Oath Keepers describe themselves on their website as a "nonpartisan association of current and formerly serving military, police, and first responders" aiming to keep their pledge to "defend the Constitution against all enemies, foreign and domestic." They subscribe to 10 main principles, one of which is "we will NOT obey orders to impose martial law or a 'state of emergency.'"
St. Louis County declared a state of emergency Monday when protests surged around the anniversary of Brown's Aug. 9, 2014, death. More than 100 people were arrested, several of them prominent Black Lives Matter activists, after a night that included a police shooting and a few business burglaries. "There were problems here, there were people who got hurt. We needed to be prepared for that," an Oath Keeper identified only as John told Reuters.
The Oath Keepers were within their legal rights to openly carry weapons. Missouri amended its constitution in 2014 to allow people with registered guns to walk around with them in the open as long as they don't do it in an angry or threatening manner.
Tuesday wasn't the Oath Keepers' first time in Ferguson. The militia also came out in force last November when a grand jury declined to indict white Officer Darren Wilson for Brown's death. The men stood guard on rooftops but were later ordered down by police, the St. Louis Post-Dispatch reported. Others stationed themselves outside businesses damaged by riots.
The Oath Keepers made headlines recently for assembling outside military recruitment centers across the country after a gunman killed four Marines and a sailor in Chattanooga, Tennessee, on July 16. The centers are gun-free zones, so the Oath Keepers took up arms to protect soldiers unable to defend themselves.
Before that, the Oath Keepers showed up in April to keep an Oregon gold mine from being shut down by the U.S. Bureau of Land Management. In 2014, they flocked to Nevada in support of rancher Cliven Bundy, whose cattle were seized by the bureau when he refused to pay grazing fees, CBS News reported.
© Copyright IBTimes 2023. All rights reserved.
FOLLOW MORE IBT NEWS ON THE BELOW CHANNELS